A stabilising point but Arsenal have to improve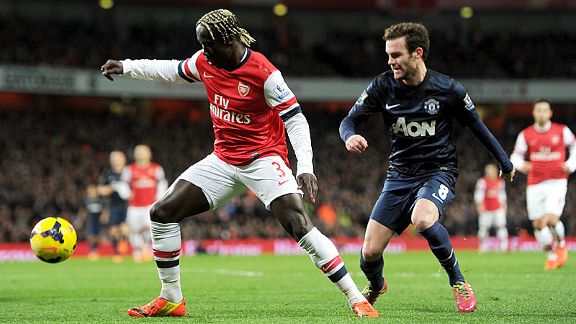 GettyImagesBacary Sagna holds off Juan Mata.
Arsenal moved to within a point of Chelsea after a 0-0 draw against Manchester United on Wednesday night in a game in which the major contributor was fear.

The Gunners had to react to the 5-1 pounding they took at Anfield, while United were smarting from the late points they dropped against Fulham. After an opening four minutes in which both sides could have scored, the game descended into a soporific midfield battle of attrition.

Neither side looked like they really wanted to go for it, fear of losing it overrode performances on both sides and it was a scrappy, tense and mostly tedious affair.

- Payne: Man United earn restorative draw
- Delaney: Three Things -- Arsenal vs. Man Utd

Ultimately, though, both sides will look back at missed chances in both halves, in a game in which one goal always looked as if it would be decisive. Robin van Persie's first-minute gift from Mikel Arteta could have given Arsenal a nightmare start, and at the end Wojciech Szczesny denied the Dutchman with a brilliant save.

Olivier Giroud found himself just half a yard off everything Wednesday evening, putting a third-minute header wide, and failing to connect with a late Bacary Sagna cross.

Santi Cazorla twice forced David de Gea into good low saves in the final stages as Arsenal got on top of the game and forced United backward, but there was little truly clear cut.

For a fixture that has provided so much down the years, this won't go down in the annals as a classic, by any means. Arsenal were timid, United the same, mediocre-looking team they've been all season, but perhaps, for Arsene Wenger's side, there's some merit to the point they earned.

Although not beating the worst United side in years will be a disappointment, after the drubbing at Anfield it was important, first and foremost, that they didn't lose the game. Toward the end, the crowd grew frustrated with the Arsenal players' reluctance to go for it, but in injury time they were probably right to avoid a mistake which might have proved fatal.

When Arsenal lost 6-3 to Man City in November, their next game was a 0-0 with Chelsea. It's clear Jose Mourinho's men are a much better side than United, but there had to be a measure of consolidation for the Gunners against the Red Devils.

Going into two crucial cup ties, trying to pick themselves up from two confidence-sapping defeats, would have made those games even more difficult. And with games still to come against Chelsea and Man City, it's not as if they don't have the chance to make up those points.

However, having got back on their feet, there's no doubt that Arsenal must improve the overall level of their performances if they're to keep their season, and chance of winning something, on a positive track.

They looked one-paced and unimaginative for most of the game against United, and probably got away with it because United are so poor themselves. Liverpool will be buoyant on Sunday and Bayern are a scary proposition any time you face them.

Wenger needs more from his key men, but too many of them look weary from the season's exertions so far. But with a season that has promised much entering the final stages, they're going to have to dig deep, and quickly, if they want to finish with a long-awaited trophy.