Arsenal on the precipice?
You don't have to win big games to win the Premier League. In fact, Manchester United were arguably the ultimate flat-track bully champions last season. They would win at Wigan and West Brom even if they slipped up at home to the likes of Manchester City.

You only get three points for a win -- it doesn't matter if you beat Stoke City or Chelsea -- and Arsenal have been remarkably consistent against the lesser teams in their title challenge this season. But apart from beating Liverpool at home at the start of November, the Gunners have struggled against the other title rivals. And that is why their challenge is still viewed with skepticism.

They lost 6-3 at Manchester City, were thrashed 5-1 at Anfield on Saturday and could not put Chelsea away after being held to a goal-less draw in December.

When Arsenal appeared to be flying earlier in the season, they went to Manchester United full of hope and expectation with a determination to put in a performance and get a victory which would prove they were genuine title contenders. They were sent back down the M6 with a 1-0 defeat, beaten by Robin van Persie's winner, and a few excuses about a bug which disrupted their preparations and affected a few players.

At that early stage of the season the defeat at Old Trafford did not derail Arsenal's charge, but what the hammering at Anfield has done is raise the doubts, once more, about whether Arsene Wenger's men can win the title.

A big, morale-boosting win can really lift the mood and makes fans, pundits and neutrals believe. It scares the rest of the opposition as well. But most importantly, it makes the players believe. Victory over a direct rival convinces them that they are better than another team in the title race; defeat leaves them questioning themselves again.

The defeat at Liverpool has suddenly meant that Arsenal's players are not quite sure, the fans are wondering and a sense of tension and nervousness fills the dressing room and the stadium.

That is what Arsenal must overcome against Manchester United at the Emirates on Wednesday night.

After so many years of United dominating the Premier League, it's hard to believe opposing fans are not all sniggering in delight at their troubles this season. Now they know how every other club feels.

And yet it is just a matter of time before they turn things around. United were runaway champions last season -- albeit not the most convincing in history -- and they have a squad of quality, experience and talent, no matter what anyone says.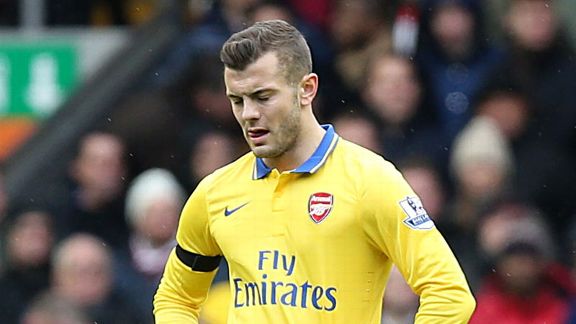 PA PhotosJack Wilshere and his teammates need to step up against Manchester United.
New United boss David Moyes is struggling and yet they will be no pushovers for Arsenal, especially after the nightmare at Anfield.

The problem for Arsenal is that they do not have many players to make changes with, even if Wenger wanted to. Aaron Ramsey is still out injured; Thomas Vermaelen, too; Mathieu Flamini is suspended after his red card against Southampton. So Wenger is expecting the same players -- who looked tired and jaded at Liverpool -- to raise themselves to produce a reaction against United.

That's why I think this game will be so hard for Arsenal. I think they will line up generally the same, but the same players who looked flat will have to be bubbly on Wednesday night.

They will also be expected to get a win, and if they don't, the questions about Arsenal's season falling apart really will begin. The fixture list is not kind: they've got Manchester United, followed by Liverpool in the FA Cup and then Bayern Munich in the Champions League.

If they slip up again against United, then the negative vibe will take hold for the next two games, which will ultimately define their season.