Arsenal fail to react, Schalke deservedly win
In the last 180 minutes of football Arsenal have two attempts on target. One, by Mikel Arteta in the 87th minute of the Norwich game, and the other in the 93rd minute of tonight's 2-0 defeat by Schalke.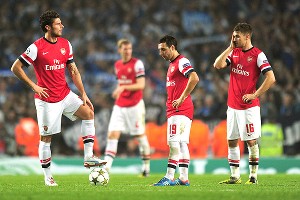 Shaun Botterill/Getty ImagesIt's now two losses in a week for the misfiring Gunners.
That this inability to create chances has coincided with some horrendous defending means it's no surprise that Arsenal lost their long home unbeaten record in the Champions League Wednesday. Schalke had chances to score long before they eventually got off the mark, as Klass Jan Huntelaar really should have put them ahead just before half-time but made no mistake late in the second half.

Arsenal were torn to shreds down their left hand side, with full back Andre Santos suffering a torrid time. The Brazilian didn't play well but without wishing to mount a defence of him, any player who is left to cope with two, and at times, three opponents is always going to struggle. He didn't receive adequate cover from Lukas Podolski, who had another quiet game, nor from the midfield – and that the problems continued after the half-time break suggests it's not something the coaching staff were capable of fixing despite Steve Bould identifying it as a problem in his post-match comments.

- Gunners Hunt-ed down
- Arsenal lacking creativity - Vermaelen

Santos was at fault for the first Schalke goal, not moving up quickly enough thus playing Huntelaar onside, but Thomas Vermaelen's lack of awareness of the attacker's position made it easy for the Dutchman. As Arsenal pressed for an equaliser, Schalke broke and doubled their lead, but the Gunners never looked like getting back into it.

Defensive issues aside, however, Arsene Wenger will be concerned that a team built on its attacking play has failed in two successive games to really trouble the opposition defence, let alone the goalkeeper. Nobody really expects Arsenal to be rock solid at the back. Even Wenger's best team, the one that went 49 games unbeaten, conceded often, but had the firepower to deal with it.

At the moment Arsenal aren't creative enough, there's a lack of belief and confidence as soon as they reach the final third, and even the magical Santi Cazorla can't fashion something out of nothing.

Arsenal's attack needs a focal point and Gervinho isn't it. It's probably time for Wenger to give Olivier Giroud a run of games as the main striker, to put some faith in the £12 million man and allow him to build some form. Most strikers need a run of games and while the experiment with the Ivorian has had some success it's obvious he's not talented or decisive enough in and around the box to do what's needed on nights like tonight. Giroud is a much more traditional centre forward, who can hold the ball up, and bring others into play.

Selecting him consistently will allow him to build confidence and allow Arsenal a better balance up front. Frenetic movement is fine, and can cause problems, but at this point the Frenchman has to be given a real chance to show what he can do.

With the visit of QPR on Saturday, Wenger will be hoping that the likes of Walcott, Gibbs and Oxlade-Chamberlain are fit – and the temptation to use Jack Wilshere for his first Premier League game since May 2011 must be immense. There's no doubt Arsenal need something to lift the side and the Englishman might well be the man to provide that.

Between now and Saturday though, much has got to be done if three points are to be taken, and two defeats in a week will make tomorrow's AGM more tetchy than the powers that be would like.