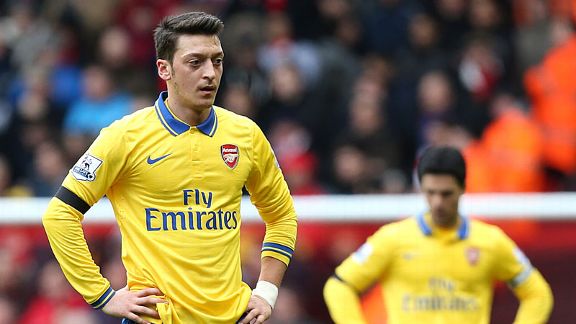 PA PhotosMesut Ozil reacts to Arsenal's woeful beginning against Liverpool.
This is a critical point in Arsenal's season. After being thrashed by Liverpool at the weekend, they need to get back to winning ways immediately if they're to avoid seeing their title challenge permanently derailed. When crisis threatens, clubs invariably turn to their biggest stars. At Arsenal, there is no bigger star than Mesut Ozil. It's time for the German international to step up to the plate.

Arsenal host Manchester United on Wednesday night in what has become a hugely important game for both teams. Both sides suffered setbacks at the weekend: A day after Arsenal were walloped at Anfield, United were held by lowly Fulham. Both sets of fans will look for a response -- and Arsenal fans will look particularly carefully at Ozil.

- Mangan: Arsenal must react. Again.
- Kelly: Tempo the key to masterclass
- Brewin: Three Things - Liverpool vs. Arsenal

A £42.5 million price tag inevitably comes with a certain level of expectation. During Arsenal's defeat at Anfield, Ozil fell well short of those standards. Twice he ceded possession, leading directly to Liverpool goals.

Mistakes can happen to any player. However, what will have most alarmed Arsenal supporters is not his misplaced passes but his reaction to them. Rather than chasing back in an attempt to cancel out his error, he turned appealingly to the referee. Ozil didn't look up for the fight.

That's not like him. Ozil might be a flair player, but he's also a first-class athlete. Those who doubt his competitive spirit forget what he has already achieved in his young career. Nevertheless, at Liverpool, the hunger and determination required to thrive in the Premier League simply weren't there.

The search for an explanation takes us back to the Etihad Stadium in December. Courage is linked to confidence, and Ozil's has taken a significant dip in recent weeks. The turning point appears to have been the 6-3 drubbing at Manchester City. After the game, Ozil trudged from the pitch, ignoring the applause of the crowd and incurring the wrath of teammate Per Mertesacker.

He's never been quite the same. Before the City game, Ozil had scored twice in his past three appearances. In the two months since he hasn't scored once and has just a solitary Premier League assist to his name. His renowned productivity has taken a startling dive. Against Liverpool, Ozil looked like a player who was feeling sorry for himself. In the midst of a closely fought title race, that's not something either he or Arsenal can afford.

There are mitigating circumstances. It has been suggested that Ozil is suffering from a lack of intelligent runs to match his perspicacious through-balls. The absence of Theo Walcott has certainly reduced Arsenal's pace and movement in the final third. However, Ozil surely has the talent and intelligence to adapt his game as required. In truth, he has the talent to do pretty much whatever he wants. He's one of the best footballers in the world. An injury to one player should not be enough to sabotage his form.

Alternative theories say that Ozil is still adapting. This is, after all, his first season in English football. He has never had to cope without a winter break, or indeed, a lack of protection from referees. At times, the sheer pace of the game seems to take him by surprise. Arsenal fans will remember that Robert Pires took almost 12 months to adapt fully to the tumult of the English game. Ozil may require time.

However, time is the one commodity Arsenal don't have. At this stage of the season, the games come thick and fast. After United, the Gunners face Liverpool and Bayern Munich in quick succession. This run of games will go some way toward shaping Arsenal's season.

Arsenal need Ozil now. He has to dig deep and remember what he is capable of. We've seen flashes this season: his illuminating debut at Sunderland; a beautiful brace against Norwich; the stunning volley against Napoli. After the game against Rafa Benitez's Italian team, Arsene Wenger said: "He had an outstanding first half, where you had everything that you want to see from a great player. Individual skill, team play, finishing, final ball. You just had to sit there and enjoy it."

Ozil should be forced to watch a DVD of that performance. It's incontrovertible evidence that he is capable of delivering in a big game. Now it's time for him to do so again. One magic moment could save Arsenal's season.

Gunners fans might be frustrated with Ozil, but they still need him. He wasn't the only Arsenal player to perform poorly at Liverpool. However, he is arguably the only Arsenal player capable of single-handedly dissecting the opposition defence. If Arsenal are to achieve something special this season, they'll require a telling contribution from their most special player.

When Ozil left Real Madrid, part of the attraction must have been to join a club where he would be the undisputed star. It's time for him to take his stage. The Emirates Stadium and Manchester United await.