Arsenal's Anfield collapse damages title credibility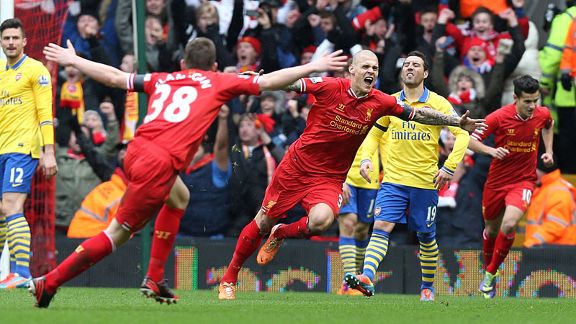 PA PhotosMartin Skrtel wheels away after his header made it 2-0 against Arsenal.
Arsenal suffered a crushing 5-1 defeat at Anfield that delivered a big blow to their pride and to their credibility as title challengers. Gunners fans will hope this was merely an anomalous aberration rather than the beginning of the end.

This game had been billed as a face-off between the irresistible force and the immoveable object. The lethal strike partnership of Luis Suarez and Daniel Sturridge were set to face off against the resolute pairing of Per Mertesacker and Laurent Koscielny.

Lest we forget, Arsenal came into the game with the best defensive record in the Premier League. What's more, they also had the joint-best points return away from home. The portents were good for the Gunners. However, in the opening 20 minutes, both records were obliterated. In the battle between the Anfield attack and the Arsenal defence, Liverpool were clear winners.

- Kelly: Tempo key to Anfield masterclass
- Brewin: Three Things - Liverpool vs. Arsenal

Arsenal found themselves behind inside a minute. In what would become a recurring theme on the day, Mertesacker struggled to cope with the speed of Suarez and was forced to haul the Uruguayan down. Steven Gerrard's subsequent free kick was perfectly delivered, and Martin Skrtel got to the ball first to head it past Wojciech Szczesny.

The Arsenal defenders justifiably felt that Skrtel might have been offside. Perhaps that sense of injustice proved a catastrophic distraction. In the next 20 minutes, Arsenal's minds certainly appeared to be elsewhere.

By the 10th minute, it was 2-0. Another set-piece delivery reached Skrtel, and Arsenal's zonal marking system was found desperately wanting. Suddenly, Liverpool's Slovak centre-back was chasing a hat trick.

The battering didn't stop there. Insouciant Mesut Ozil was dispossessed by Jordan Henderson, who fed Suarez. The former Arsenal target raced to the byline to square, and Raheem Sterling gleefully tapped in.

The fourth came from a similar source. Liverpool snatched the ball from Ozil once again, and Philippe Coutinho played a perfectly weighted through-ball to Daniel Sturridge, who swept his strike beyond advancing Szczesny.

Arsenal found themselves 4-0 down after 20 minutes and, remarkably, it could easily have been worse. Sturridge had missed a presentable one-on-one, and Suarez had thundered a magnificent volley against the inside of the post.

Not since the catastrophic 8-2 defeat at Old Trafford in 2011 have Arsenal defended quite so poorly. However, on that day, there were mitigating circumstances. Injuries and delayed transfer activity had forced Arsenal to field a hugely weakened XI. However, this was a strong team, stumbling punch-drunk through one of the biggest games of their season. For Arsenal fans watching it from home, it was alarming. For those who had sacrificed time and money to travel to Anfield, it was infuriating.

The match was already effectively over. Arsenal fans could only hope the Gunners could show the necessary spirit to make a game of it. However, any hope of a second-half comeback evaporated when Sterling added his second and Liverpool's fifth just seven minutes after the restart.

Arsenal did grab a late consolation goal through a Mikel Arteta penalty. The spot kick was struck with all the nonchalance of a man who knew it counted for little more than a consolation.

There are two sides to every story. Liverpool were as exhilarating as Arsenal were abominable. Their achievements deserve commendation just as much as Arsenal's horror show warrants condemnation. To win a game against a major rival is impressive. To win by such a scoreline is a huge statement. To put it in perspective, Arsenal have not beaten a single Premier League team by a four-goal margin, let alone one of their closest rivals.

The defeat will be particularly painful for Arsene Wenger as it falls in the same week as a managerial masterclass from Jose Mourinho at the Etihad. Mourinho set up his team to deal with City's attacking force and pose a constant menace on the break. At Anfield, Wenger's strategy looked comparatively naive.

However, all is not lost. As agonising as this loss might have been, it has cost Arsenal only three points. Arsenal have a great chance to respond on Wednesday when they face Manchester United at the Emirates Stadium. A win in that match would restore confidence and stabilise Arsenal's wobbling title challenge.

After that, Arsenal host Liverpool in the FA Cup. Drastic improvement is undoubtedly required. However, if Arsenal learn the lessons of this painful defeat, immediate revenge could be in the cards.