Liverpool clash can set the tone for Arsenal's season
Before Arsenal played Liverpool back in November, there seemed to be a similar air of tension. It was a must-win game. Make-or-break. A chance for Arsenal to prove their title credentials against one of their main rivals.

As it turned out, Arsenal absolutely steamrollered Liverpool. They were dominant, forceful, strong and determined. Santi Cazorla and Aaron Ramsey scored but it was a match more about Arsenal gaining confidence and making a statement.

Afterwards, you got the impression that Liverpool felt their title charge had been put in perspective and Brendan Rodgers believed it was more about the top four than being champions.

As the season has worn on, Liverpool have proved they are here to stay, they have a great chance of fourth or better and their strike partnership of Luis Suarez and Daniel Sturridge are a match for anyone.

In fact, Arsenal are the only team to keep out the "SAS" strike force this season. They have started 11 games together in the Premier League and only Arsenal -- in that game in November -- have stopped either one of them from scoring.

Arsenal will need all of their resilience to keep out Suarez and Sturridge because of their pace, movement and effectiveness in front of goal -- but the point proved in the game at the Emirates was that Arsenal cannot and must not worry about the opposition because, as they have shown throughout the season, if they play to the best of their ability then they will probably win.

Arsenal do need a big result away from home as they lost at both Manchester clubs, and this game at Anfield kicks off a tough run of four games in 11 days. It is Liverpool first, then Manchester United in the Premier League at home, Liverpool in the FA Cup and then they entertain Bayern Munich in the Champions League.

That's why winning at Liverpool would be the result of Arsenal's season so far. This run of games will define Arsenal's season, and therefore the Liverpool game will set the tone.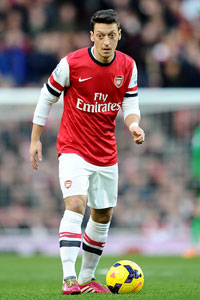 PA PhotosMesut Ozil is due a big performance.
Arsenal do need big performances. Jack Wilshere is hoping to be fit and he could partner Mikel Arteta. Alex Oxlade-Chamberlain could go wide right, Santi Cazorla left and Mesut Ozil behind Olivier Giroud. That would be a nice balance in midfield of creativity, power and pace. But the other key point will be Ozil.

Ozil is a key issue in the big games. In my view, his best game so far was against Napoli in the Champions League at the Emirates, so all of this stuff about him not turning up in big games isn't quite right, but in both games in Manchester, at City and United, Ozil disappointed.

Ozil does need to dominate a big game, create a big chance, score a big goal or really make things happen. The Germany international is a world-class player and delivering on a huge stage like Anfield would be such a lift for him and for Arsenal.