Arsenal should give Bacary Sagna a new three-year deal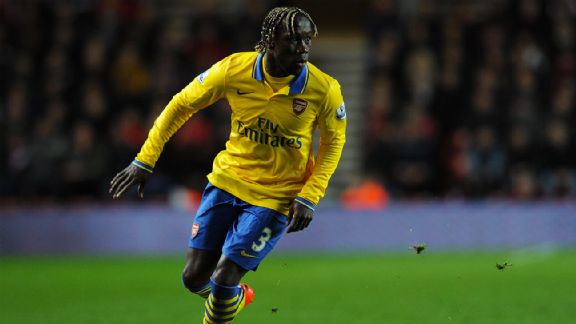 Stuart MacFarlane/Arsenal FC/Getty ImagesBacary Sagna, who's about to turn 31, has shown great loyalty to Arsenal. The club should repay that dedication.
Bacary Sagna turns 31 next week.

It is an age which seems to set alarm bells ringing at Arsenal and particularly with Arsene Wenger. As soon as you get over 30, it becomes an issue.

The big question is whether Sagna, one of the best right backs in the Premier League, should be given a new long term contract. Arsenal have offered Sagna a new two year contract. Sagna wants three years as it is probably going to be the last big deal of his career.

In my opinion, Sagna is worth that three year contract. But, down the years, Wenger has shied away from giving 30-somethings long-term deals. Even the great Dennis Bergkamp had to go year by year in the latter stages of his career.

It was also the case for William Gallas and defensive veterans before him. In recent seasons, Wenger has softened his stance a little. He seems willing to bend and give defenders two years rather than just one.

But now comes another test. Sagna wants three years, knows he can get that elsewhere and is seriously tempted to leave the club. Galatasaray, clubs in the Middle East, Paris Saint Germain and Monaco are all interested in him and would be willing to give him a good contract.

Sagna has been fiercely loyal and consistent for Arsenal. When big clubs have come calling for other players, they left. The likes of Robin van Persie, Kolo Toure and Samir Nasri. Sagna had advances from Manchester City, but stayed put.

Sagna was overlooked for the captaincy, has been on similar wages throughout his Arsenal career and wants one last big deal. He has been excellent this season -- getting forward, defending well, showing a great level of consistency and also proving that the past couple of years and a few injuries are behind him.

The French defender has shown loyalty to Arsenal and now, in my view, it is time they repaid that loyalty.

Also, if the decision comes down to just finances, then how much it would cost to purchase a quality replacement, give him big wages and hope he can anywhere near as good as Sagna.

But if you do the math then Sagna -- even on a three year deal -- would be much better value than a big money replacement. Indeed, you won't find a more loyal, committed player -- that, in itself, deserves to be rewarded.

So while Wenger and the money men work out the latest offer as they negotiate again, I hope they see good sense. Three more years.