Podolski on a German mission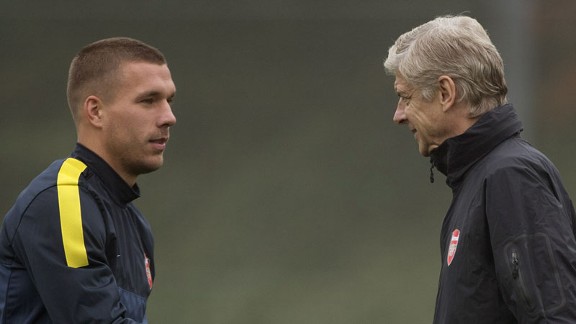 PA PhotosLukas Podolski will be determined to impress against Schalke
In the not-too-distant past, Arsenal were seen to have an extremely strong French influence in the team. There's still a strong French connection at the club, but now there is a more cosmopolitan feel to the squad. That includes two Germans who have undoubtedly had a positive impact on Arsenal.

After an indifferent first season, Per Mertesacker is establishing himself at the heart of the Arsenal defence. In the close season, he was joined by Lukas Podolski, a player who seems to divide opinion among regular watchers of the Bundesliga or the German national team.

While he has undoubted talent, many questioned whether he had the temperament for a bigger club than Cologne after his three-year stint with Bayern Munich didn't quite work out, prompting a return to his hometown club. I've also spoken to fans who always feel he can do more when playing for Germany, despite racking up over 100 caps for his country. However, since his arrival at Arsenal - with the exception of the Norwich game at the weekend - I think Podolski has shown why Arsene Wenger thought he was a worthwhile signing.

He's worked hard on the left-hand side of the front three, helping the team be more solid defensively by offering protection to the full-back. Podolski has also chipped in with a few goals in the Premier League and it looks like he's adapting well to the tempo of the English top flight.

However, I've been more impressed with Podolski in the Champions League. Arsenal are only two games into the group stage and have two wins out of two. Podolski has netted in both of those matches even though his chances have been limited. Against Montpellier, he made an intelligent run into the middle before calmly finishing a one-on-one chance, while he opted for power to score against Olympiakos. It was clinical, and a reward for his unnoticed hard work in other matches. It's also reassuring for fans to know that there is someone in the forward line who can be clinical in tight matches.

Ahead of the return of the Champions League this week, Arsene Wenger praised the attitude of both Mertesacker and Podolski and mentioned the positive impact it has had on the team. Since Podolski arrived, he's experienced few major unexpected disappointments at Arsenal, so Wednesday will provide a test for him, and the team, as they look to deal with the Norwich setback.

With the club facing Schalke on Wednesday, Podolski will undoubtedly want to perform well knowing that there'll be extra interest in his performance from onlookers in Germany. He has noted himself that he has a good record against Schalke, and all Arsenal fans will want that to continue as Podolski, and the team, need to put in a drastically improved performance after the showing at Carrow Road.

Wenger should be the first to admit that Arsenal haven't been near their fluent best in Europe this season, but a win on Wednesday against Schalke would put the Gunners firmly in control of the group. That would be extremely welcome to improve the mood of fans after the weekend. To have a challenging and important match a few days after that defeat to Norwich could play into Schalke's hands if Arsenal are hesitant, but the Gunners should feel enough disappointment and regret from that match to not hold back against the Germans.

All of the interviews with the players and the manager after Saturday's game suggest that there is genuine frustration lingering from that match, and hopefully Schalke will be on the receiving end of a backlash with Podolski at the forefront of it.