Arsenal need to step up with tough schedule ahead
One of Arsenal's positives this season is how efficiently they have been achieving results.

I wrote about this a couple of weeks ago, saying, "They're producing the maximum in terms of points and results in a very efficient way. Over the course of a long season that could stand them in very good stead."

Now, with a punishing-looking schedule coming up, they may have to improve the overall level of their performances to keep control of this title race. Their next two league fixtures come against traditional rivals, big teams whose seasons are sure to make these hugely competitive games.

The Gunners travel to Anfield on Saturday to face a Liverpool side pushing hard for a top-four finish for the first time since 2009. That's a long time, especially for a side with such a prestigious record in European football's most important competition. With Luis Suarez and Daniel Sturridge in excellent form and Liverpool determined to try to put some distance between them and the chasing pack, Arsenal's mean defensive record will be tested.

After that, they entertain Manchester United at home, a team struggling to come to terms with the departure of Alex Ferguson and the new regime under David Moyes. They have no chance of retaining their title, and it's quite ironic they find themselves in a situation familiar enough to Arsenal: fighting for a top-four finish.

- Cross: Arsenal's confident defence
- Delaney: Wenger's men grind it out
- Mangan: Ox leads Gunners
- Report: Arsenal go top again
- Highlights: Arsenal 2-0 Palace (U.S. only)

Whatever surgery needs to be performed at Old Trafford in the summer, doing it without Champions League football will make it all the more difficult -- like asking Moyes to remove his own appendix with a butter knife and a blunt pair of scissors. While blindfolded.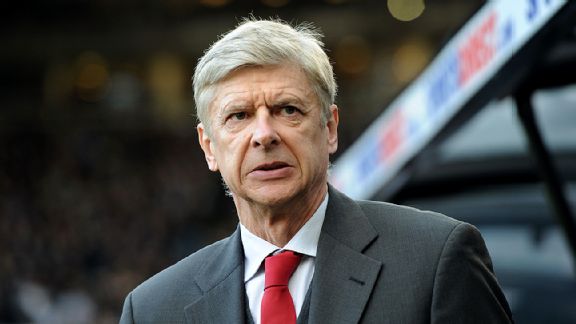 David Price/Getty ImagesAs good as Arsenal have been so far, the Gunners will need even better performances if they want to stay on top of the league.
So it means that Arsenal are going to have to step up their efforts, and you have to wonder if they've been playing within themselves -- even subconsciously -- knowing that these games are upcoming.

There's certainly room for improvement, particularly in the final third. Olivier Giroud has found some goal-scoring form, but a touch more efficiency in front of goal would go a long way. Santi Cazorla is another who has come through a lean patch while Alex Oxlade-Chamberlain stepped up at the weekend to dispatch Crystal Palace. It's not unreasonable to hope for more from Lukas Podolski either.

Perhaps the most obvious candidate, however, is Mesut Ozil. I'm on record as a big fan, and I don't share the view that he's been a disappointment since his arrival from Real Madrid. He has 11 assists and five goals, and his overall contribution to the way Arsenal play has been overwhelmingly positive.

That said, the last of those goals was on Dec. 8, against Everton, and there's no doubt that a player of his quality is capable of more. He is a world-class talent with a world-class price tag, and it does come with a measure of responsibility. Arsene Wenger will always play up the collective effort over the individual -- rightly so -- but in testing periods like this you need that bit extra from the players capable of it, and Ozil is one of those.

What makes this period all the more difficult are the cup games. There's another clash with Liverpool in the FA Cup, the weekend after the United game, and that's followed by the arrival of European champions Bayern Munich just three days later. Challenging, to say the very least.

But Arsenal have momentum with eight wins and two draws from their last 10 matches. They have risen to the challenges presented to them in that period, but done so in second gear for the most part. With the quality of the opposition in the next few weeks, they have to shift up a gear or two.

The good thing, from an Arsenal fan's point of view, is that you can see how they might do that, rather than wondering where the improvement is going to come from.