Oxlade-Chamberlain fires Arsenal top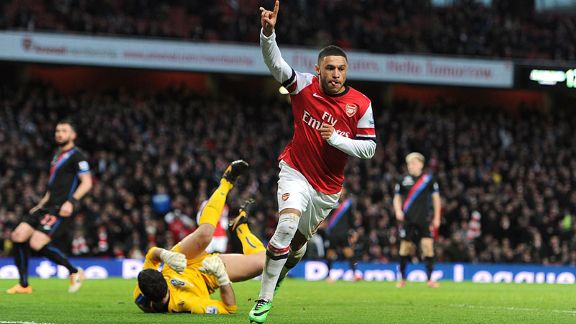 PA PhotosAlex Oxlade-Chamberlain marked his first Premier League start since the opening day of the season with a goal against Crystal Palace.
Midfield was something of a worry for Arsene Wenger as Arsenal went into Sunday's 2-0 win over Crystal Palace.

Aaron Ramsey and Jack Wilshere are missing through injury, Tomas Rosicky is recovering from a broken nose, Mathieu Flamini is suspended and new signing Kim Kallstrom arrived with a back injury.

It meant that the Arsenal manager had to deploy Alex Oxlade-Chamberlain in the centre of midfield. It's the position Wenger believes is his long-term future, but one he's relatively unfamiliar with at this point in his career.

Although one of his best Arsenal performances came when played there against Milan in the Champions League a couple of seasons ago, he's usually been used in a wide attacking position. Against Crystal Palace, however, the manager put faith in him to be the link between Mikel Arteta and Mesut Ozil, and that was repaid with two fine goals.

The first half, not uncommonly for the Gunners this season, was a cagey enough affair. Palace sat deep, denied them space and Arsenal were more or less content for that to happen. It's a feature of their play this season.

It can be frustrating, knowing they're capable of more, but they're so confident in their ability to break down the opposition that it's not a huge worry. It's not a coincidence that they've won so many games in the second half this season, and they did again on Sunday.

The first goal arrived when Oxlade-Chamberlain made a clever run off the back of former teammate Marouane Chamakh, matched by a beautifully weighted pass from Santi Cazorla. The finish was deft, dinking it over the keeper with his instep as he was closed down.

The second was the kind of positive, driving midfield play that changes games. His back-heeled pass to Olivier Giroud was fantastic, he took the return from the Frenchman and powered into the Palace box, stepping inside to fire home a shot which Speroni got a hand to but couldn't keep out.

In the absence of Arsenal's two highest-scoring central-midfielders, Ramsey and Wilshere, it's another example of a player stepping up when needed. It's worth remembering that Oxlade-Chamberlain is still only 20 years of age, and just back from a cruciate knee injury, so his contribution becomes even more impressive.

And while it's easily forgotten in the aftermath of a relatively comfortable win, there should be a mention of yet another big save from Wojciech Szczesny, which ensured the Gunners stayed 1-0 up. Not for the first time this season the big Pole made an important stop, this time from a point-blank Cameron Jerome header, and it's another illustration of how crucial it is to have a keeper who wins points, rather than costing them.

Finally, while Arsenal's efficiency is something to give them great credit for, it's hard not to wonder if the Gunners are -- even subconsciously -- conserving energy ahead of a period which is going to demand a huge amount of them.

For now, however, Arsenal are top and will look to Monday's clash between Man City and Chelsea with huge interest.