Arsenal awaiting another German on deadline day?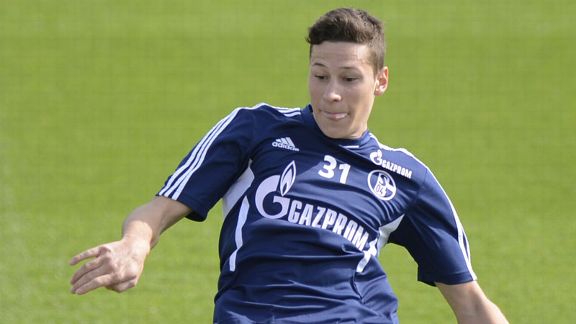 APJulian Draxler is highly rated in his native Germany.
On the last transfer deadline day, Arsenal fans waited anxiously for confirmation of a German international. He arrived late, but Real Madrid's 42.5 million pound Mesut Ozil was a Gooner before the window closed.

This time around a similar situation is unfolding: Arsenal are, according to reports, trying to do a deal to bring Schalke's Julian Draxler to the club, a deal that could cost almost as much as they paid Real Madrid (and doesn't that bear some scrutiny? Ozil was very much the complete package. Draxler, at just 20, is still developing).

Between now and 11pm GMT on Friday, websites, Twitter, television, radio and any other source possible will be scoured for that little nugget of information nobody else has just yet. A rumour here, a whisper there, sources, people close to, vague language such as 'We're hearing ...' or 'We understand that ...' becomes the currency of the transfer window.

And such is the interest that it's hard to avoid thinking that some fans are more interested in transfers than actual football. I know that on most websites, deadline day sees a spike in traffic incomparable to anything else. Not a great win, a bad loss, or a controversial incident -- nothing comes close. Despite many who say they can't bear the manufactured hysteria of it all, people just can't get enough.

And let's be honest: Much of it is whipped up by voracious media because they know there's a huge appetite for it. For the most part it's amusing to see them try to make news about a Stoke trainee going to Charlton for 100,000 pounds sound interesting, but all the trifling, unimportant deals are just grist for the mill. The occasional big one makes it all worthwhile.

Arsenal fans will be hoping that there's something like that for them tomorrow, having just seen Man City go above them in the table for the first time this season. With an upcoming schedule that looks like it was created by a spiteful Tottenham fan, they've got Mathieu Flamini suspended, Aaron Ramsey injured again for up to six weeks, Jack Wilshere nursing an ankle problem, and still with that big issue up front: Who is there to provide cover for Olivier Giroud?

Theo Walcott's season is over, Lukas Podolski can barely get on the pitch these days and is clearly untrusted by the manager, while Nicklas Bendtner might grab you a few goals along the way, but is unlikely to be the man to fire them to the title.

And that's what this window is about. With Manchester City rampant -- and why wouldn't they be after all that money bought them a brilliant squad? -- the question might need to be modified. It's not about who can cover for Giroud, but finding somebody who will help them keep pace with Manuel Pellegrini's team.

Somebody who can provide an injection of quality and talent, and perhaps somebody who can give the club the kind of lift they got with the arrival of Ozil. Somebody whose purchase says: 'OK, we're really going to go for this'. It remains to be seen if that man is Draxler, his club seem quite insistent he's going nowhere at this point.

All the same, it just feels as if they need an injection of something new and fresh to keep fighting with a team like City, and even a Chelsea side who, at some point, will remember how to score goals consistently. Not to mention they're still in the Champions League and the FA Cup, and any new additions would help there, too.

Arsenal left it late last time around, as they have done in the past with deadline day deals for Andrei Arshavin and Nacho Monreal, so come tomorrow night 11.01 pm, it would be good to see Arsene Wenger pull another iron out of the fire as his team looks to continue the fine season they've enjoyed thus far.