Sloppy Arsenal escape defeat at Southampton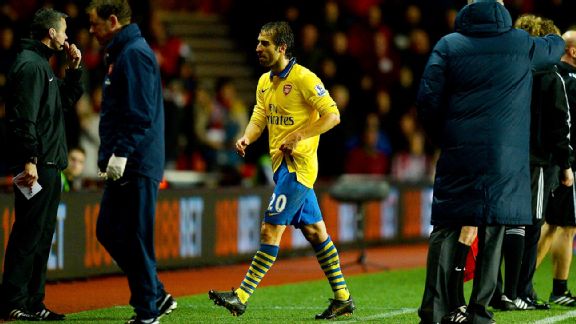 Mike Hewitt/Getty ImagesArsenal went from looking for a winner to protecting a point upon Mathieu Flamini's 80th minute sending off against Southampton.
This was probably a game that Arsene Wenger expected Arsenal to win. However, by full-time, he must have been mightily relieved to escape with a 2-2 draw.

- Report: Southampton 2-2 Arsenal

Wenger's team selection was hampered by the absence of Aaron Ramsey, Jack Wilshere and Tomas Rosicky. The best Arsenal performances tend to include at least one of this energetic trio: they play a crucial role, injecting tempo into the midfield and forging links with the attack.

Without that tireless triumvirate, Arsenal struggled. Wenger's side may have had an extra day's rest, but a feisty Southampton were first to every ball. For that reason, it was no great surprise when, after 21 minutes, Mauricio Pochettino's team took the lead. A deep cross from Luke Shaw was met by centre-half Jose Fonte, whose downward header beat Wojciech Szczesny at the near post.

Szczesny will have been disappointed to be beaten in such a manner. It seems this match-up brings bad luck for Polish goalkeepers: in the reverse fixture at the Emirates Stadium, Southampton's Artur Boruc committed a calamitous error to allow Olivier Giroud the most simple of goals.

As the ball hit the net, the Arsenal players protested furiously. The goal came directly from a generous free-kick that had been awarded Southampton's way. What's more, there was a suspicion that Fonte may have been guilty of a foul on defender Nacho Monreal as he rose to nod past Szczesny.

However, while Arsenal might have felt aggrieved about the nature of Southampton's equaliser, they could not argue with the fact that the Saints deserved their lead. The Gunners' greatest frustrations were surely with themselves.

Arsenal's first-half performance was shocking in the truest sense: the away fans watched on, incredulous that this was the same team who had performed so convincingly throughout the 2013-14 season. "We are top of the league", they chanted, perhaps in an attempt to remind the players of their supposed pedigree.

It threatened to get worse. Teenage striker Sam Gallagher, making his first Premier League start, twice came close to extending the home side's lead. Gallagher is another impressive product of Southampton's esteemed academy. Few forwards have both the physical stature to compete with Per Mertesacker in the air and the speed required to challenge Laurent Koscielny on the ground. However, Gallagher tormented the pair throughout the first 45 minutes.

Fortunately, Koscielny was one of the few Arsenal players on his game. He produced one particularly stunning block, and was closest to an equaliser. Boruc's save from Koscielny's scrambled effort was a reminder that, for all their sloppiness, Arsenal were still very much in the game.

At half-time, the Gunners needed a turnaround -- and boy did they get it. Within seven minutes of the restart, the Gunners were ahead. Perhaps, in his retirement, Sir Alex Ferguson had lent Wenger his fabled hairdryer. Arsenal began the second half with a renewed sense of purpose.

First, Giroud delicately flicked a Bacary Sagna cross beyond Boruc. Then Mesut Ozil dribbled down the right before finding Santi Cazorla on the edge of the box. The Spaniard took aim with his left foot to net his fifth goal in as many games.

However, Arsenal's elation was short-lived. No sooner had they taken the lead than they were pegged back. A Southampton break down the left saw Jay Rodriguez out-muscle Sagna and square for Adam Lallana to equalise. In nine second half minutes, the scoreline had jumped from 1-0 to 2-2. Two of the Premier League's best defences had abandoned their solid principles in favour of an end-to-end spectacle.

As the game developed in to a straight-up slugging match, Arsenal set about looking for a knockout blow. Ozil came close, skipping through the Southampton defence before seeing his shot deflect on to the crossbar. Monreal missed a presentable opportunity, firing over when played in by Mikel Arteta.

However, just when it seemed Arsenal were building momentum, a reckless challenge from Mathieu Flamini saw the midfielder handed a straight red card. From then on, Arsenal's ambitions were adjusted. Instead of chasing a winner, they attempted to see out a draw.

To do so, they were forced to rely on Szczesny, who atoned for the opening goal with a series of fine saves. But for his heroics, the game may have had an even more sour finish for Arsenal fans.

In such a closely-fought title race, dropping two points to a mid-table side like Southampton is undoubtedly a blow. However, given the poverty of Arsenal's first half display, Wenger may consider this a lucky escape. Wenger is a keen believer in that when you don't play well enough to win a game, it's vital to ensure you don't lose. Arsenal and their title hopes live to fight another day.