Arsenal must show they mean business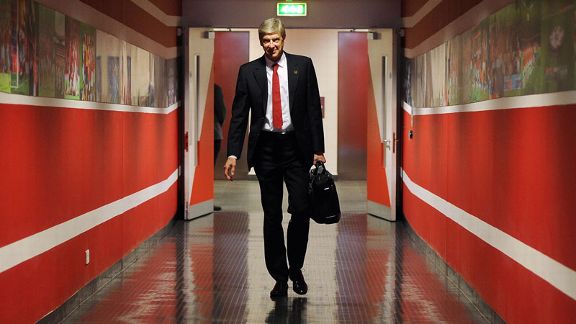 APArsene Wenger has a tough task ahead.
Cherish this week before the madness really begins. Arsenal's trip to Southampton will be a test of their title credentials and a chance to put the pressure on Manchester City and Chelsea, who play 24 hours later.

Arsenal will then have a full five days to recover before entertaining Crystal Palace on Sunday before a free midweek. That's just as well as after that come four huge games in 12 days: Liverpool in the Premier League and FA Cup, Manchester United and Bayern Munich.

The hard part is drawing Liverpool in the cup. An easier home tie would have meant they could rest and rotate like Arsenal did against Coventry; Nicklas Bendtner and Lukas Podolski could take care of lesser opposition, and Arsene Wenger could have saved the big guns for Bayern.

Instead, Arsenal can have no rest; every player will have to play in the big games. Arsenal need a trophy more than ever, and the FA Cup must therefore be taken seriously.

Last year, the wheels fell off after losing to Blackburn in the cup, and three days later they lost to Bayern Munich.

The success of last season was finishing in the top four. It was incredible to turn it around from the position they found themselves in earlier in the season, but this year the ambitions are higher.

That's why I think reinforcements are needed. Julian Draxler would be a great signing, but I still feel his arrival in January is unlikely even though he would be a great lift like Mesut Ozil was in the summer.

Arsenal must keep going. Jack Wilshere is likely to miss Southampton, but Mikel Arteta, Aaron Ramsey and Thomas Vermaelen are back in the squad. Suddenly, there is a bit of strength in depth, and Wenger will need it in the next few weeks.

It's a nightmare February, a tricky March and the pressure is on at the business end of the season, but there are some positives along the way. The announcement of the 150 million pound Puma kit deal was huge -- the biggest in English football. Just as big was chief executive Ivan Gazidis assuring Arsenal fans that Wenger will stay and sign his new contract.

These are exciting times for Arsenal, but also testing times. It puts even more emphasis on the need for mental strength. In my view, the football authorities don't do enough to help English clubs in Europe with fixture scheduling, but if Arsenal are to win trophies, then they'll have to do it the hard way.

The first step must be to win at Southampton. That lays down a marker that City and Chelsea must respond to, and it will show Arsenal mean business before the real business begins.