Gedion Zelalem looks at home at Arsenal
On Oct. 1, 1996, Arsene Wenger took the reins as Arsenal manager. Four months into his tenure, an event occurred that could see a different date enshrined in the collective memory of Gunners fans: On Jan. 26, 1997, Gedion Zelalem was born.

• Davis: Zelalem and American-ness

On Sunday, Zelalem turns 17. That landmark enables him to sign his first professional contract with Arsenal. All in all, it's not been a bad week for the Berlin-born midfielder.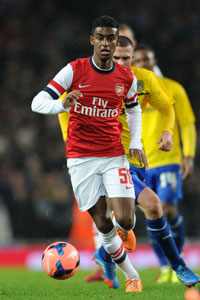 GettyImagesGedion Zelalem has already seen a battle for his international services emerge between the United States and Germany.
When he made his professional debut against Coventry City on Friday night, Zelalem became the first player born after Wenger took charge to feature on one of his teams. The teenager also became the youngest footballer to represent Arsenal in the FA Cup. Although the records might have the statisticians buzzing, they're not what drives Zelalem. The most important thing for him is that he had the opportunity to take to the turf at the Emirates Stadium.

But for injury, his debut would have come much sooner. Missing the opportunity to play in the Capital One Cup tie at West Brom will have irked the youngster. Zelalem is hugely precocious, and prodigious talent is rarely patient. Stepping out in front of 60,000 fans at the Emirates, Zelalem would have felt more relief than fear. Finally, he is where he belongs.

It has been quite the journey. Zelalem spent the early part of his life in Germany, playing with Hertha Berlin's BSC academy. In 2006 -- the year Arsenal crossed Drayton Park to the Emirates Stadium -- Zelalem undertook a voyage of his own, traversing the Atlantic to move to the United States.

Having settled in the States, Zelalem eventually found his way onto the respected Olney Rangers setup. His talent flourished, and it was there that Arsenal scout Danny Karbassiyoon laid eyes on the youngster. As a player, Karbassiyoon made the step up from youth soccer in the States to competitive football with Arsenal. In Zelalem, he saw the same raw ingredients for success. Within a matter of months, Arsenal and Zelalem made arrangements for a trial period. It's unsurprising that Wenger was instantly similarly enamoured: Zelalem is perfect for the sort of football Wenger encourages his teams to play.

If Wenger were granted the means to build his ideal midfielder from scratch, he would look something like Zelalem. His tall frame suggests he will develop the physical stature to survive in the combative environment of the Premier League. He also has the basic stamina required of a central midfielder.

However, it's the technical aspect of his game that demands the most attention. The precision of his passes is perfectly suited to Arsenal's intricate, attractive style. Comparisons between footballers can occasionally be lazy or unhelpful, but Zelalem's similarity to Cesc Fabregas is notable. Like the Spaniard, Zelalem's eyes never drop to the ball. He is constantly scanning the horizon, his slender neck operating as a periscope as he seeks to identify opportunities to dissect the opposition defence.

Watching him during Arsenal's preseason tour of Asia, it became clear that Zelalem possesses preternatural spatial awareness. Not only can he easily interpret the runs of his teammates, but he also has the uncanny gift of being able to turn away from opposition defenders before they even arrive.

Unsurprisingly, debate over Zelalem's international future has already begun. Although he has already represented Germany at the youth level, Jurgen Klinsmann is eager to get him to declare for the U.S. A potential problem is that if Zelalem did choose to represent America, his EU status would be revoked, potentially threatening his position at Arsenal. However, there should be no great cause for concern; if ever there was a youngster befitting an "exceptional talent" visa, Zelalem is it. He is not going anywhere in a hurry.

Zelalem is only 17, but his odyssey has already taken him to America and back. He is as well travelled as he is talented. Now, though, as the archetypal Arsenal footballer, he couldn't be in a better place for his development. Zelalem can finally settle: He is home now.