Flashback to January 2004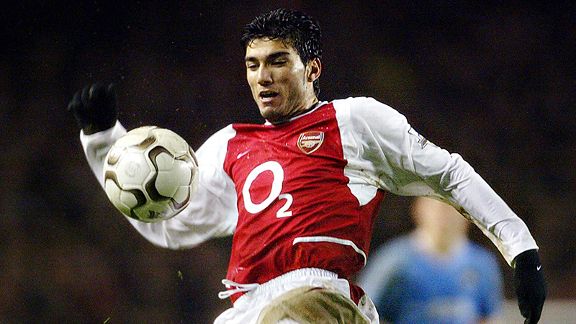 AllsportJose Antonio Reyes' midseason arrival in 2004 helped spark Arsenal to a Premier League title.
This time 10 years ago, the transfer window was open but Arsenal didn't look as if they were going to make use of it. In fact, Arsene Wenger was pretty open about it, saying, "We could spend 10 million pounds, but at the moment it's very difficult to find players at the right price as there's no transfer market. I'm trying to make 20 million pounds in June with the 10 million pounds now. We're saving the money until then."

- Cross: Oxlade-Chamberlain back in the frame
- Report: Szczesny form impressing Wenger

Sounds a bit familiar, eh? The difficulty of buying players in January, getting value for money and all that.

In any case, it was hard to see where Arsenal really needed to make signings. They had a new keeper, a strong defence with Kolo Toure settling in at centre-half alongside Sol Campbell and a midfield packed with options like Patrick Vieira, Ray Parlour, Edu, Gilberto, Robert Pires and Freddie Ljungberg.

As for the strikers, a lineup consisting of Thierry Henry, Dennis Bergkamp, Sylvain Wiltord, Kanu and a young Frenchman called Jeremie Aliadiere provided the kind of depth most managers would have given their right arm for.

On this very day all those years ago, Arsenal topped the table, with a two-point lead over Manchester United, driven by the disappointment of losing the league the previous season in the final stages of a campaign that promised a lot.

The days to the window's closure counted down, and still nothing happened. As usual, goalkeeper Sebastian Frey claimed in the media that Arsenal wanted to sign him. Wenger said he had never spoken to him. He probably still hasn't.

The Arsenal manager then said there might be a 20 percent chance of making a signing, but the squad looked assured, with plenty of options, lots of experience and a desire to claim back the title. A signing might even upset the balance.

A couple of days later, more or less out of the blue -- in a move that probably couldn't happen so secretively now -- Arsenal announced the signing of Jose Antonio Reyes from Seville for a club-record fee.

The young Spaniard had been setting La Liga alight, and when his hometown club thrashed Real Madrid 4-1 in November 2003, no less than Zinedine Zidane asked if Reyes was "on a motorbike" as he sped past bemused Madrid defenders time and time again. Arsenal had splashed out in a most uncharacteristic manner and brought one of Europe's hottest talents to London.

In the long run it didn't work out. Reyes found England and English difficult. His family, who lived with him, struggled to enjoy life in a country where the sun is a rare treat rather than the constant warming friend it is in the south of Spain, and eventually it all caught up with him and his performances on the pitch.

In the very short term, however, it was a blinding piece of business. It added something fresh and exciting to an Arsenal team that at that point boasted four of the best players in the world -- a situation that is unlikely to ever recur -- including the most potent striker the Premier League has ever seen.

He smashed Chelsea out of the FA Cup to announce himself, and as legs got weary and the season progressed, Reyes scored crucial goals against Fulham and Portsmouth to ensure the unbeaten season became a reality. His part in that shouldn't be overlooked despite others having made more of a contribution over the course of the entire campaign.

As Arsenal now sit top of the table with a squad that looks balanced and effective -- but with an obvious shortcoming in terms of striking options -- we might wonder if Wenger has given thought to that campaign. A January purchase didn't make all the difference, but it played a significant part in a title-winning season.

It might be difficult to find the right player in the middle of the season, but if you can, history shows it's worth taking the chance.