Will the real Arsenal please stand up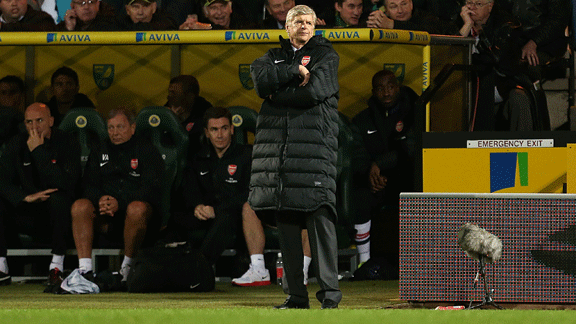 PA PhotosArsene Wenger had little to smile about at Carrow Road
The defeat to Norwich City was unexpected and immensely worrying for Arsenal fans. The seemingly decent start to the season came to an abrupt end, and the club are now 10 points off the top of the table, with just 12 taken from eight games.

The positive demeanour from Arsenal fans during the start of the season hadn't come from just a few encouraging results but also the apparent shift in attitude of the team. Even when things weren't clicking, the endeavour had been there to work hard and show some urgency to change that within a match. That was completely missing at Carrow Road on Saturday evening.

- First win for Hughton as Gunners fall
- Blog: Arsenal punished for lacklustre performance
- Blog: Norwich underline topflight credentials
- Tactics Board: The Norfolk Santi Cazorla

Arsenal players have been steadily beginning to say in interviews that they believed that this team could achieve something impressive this season, and they still can, but until they cut out the complete non-performances, such as the one at Norwich, it's hard to take them seriously.

Arsenal strung passes around the middle of the pitch, yet seemed to go nowhere with the ball. There was little movement ahead of the midfielders, although they didn't seem to look forward much at any rate and seemed intent on simply keeping possession. If someone started watching the match with 25 minutes to go, it would have been hard to work out who was winning, as Arsenal were passing it around as if trying to see out the match and make the three points safe. The lack of urgency was immensely frustrating.

Arsene Wenger has to take a large portion of the blame, but with the exception of Kieran Gibbs and Theo Walcott, it was the same team that won a similarly tricky away game at West Ham. It wasn't unreasonable for him to put that starting XI out and expect them to take charge of the game and win it comfortably. Wenger tried to change it with Alex Oxlade-Chamberlain coming on, and initially it looked like he'd be the only one to stretch the Norwich defence, but his unfortunate withdrawal could become a big problem with Walcott also out.

Seventeen-year-old Serge Gnabry also made an appearance from the bench and made an impact, however, it would have been wrong to expect a kid in his Premier League debut to cover for the experienced players who looked disinterested.

It's important to credit Norwich for the way they were organised defensively given how they've been shipping goals this season. However, they didn't create much going forward. In truth, they didn't have to. For Arsenal, it felt like Norwich had been gifted the goal. Alexander Tettey should have been closed down, Vito Mannone shouldn't have pushed the ball back into the penalty area, and Andre Santos should have stepped up with Per Mertesacker to play offside. Norwich got the lead following defensive errors in the buildup to their goal, and were able to sit back and look dangerous on the counterattack.

To concede such a disappointing goal should have made Arsenal more determined to fight to turn the game around, but nothing materialised.

The biggest concern for Arsenal fans is there was an increasing belief that these sorts of results were being consigned to the past. However, even with new signings, serious questions remain about Arsenal's soft centre and lack of desire. The players shouldn't be blaming others. Everyone who appeared for Arsenal on Saturday should know that they weren't good enough to win any Premier League match, whoever the opponents were. Despite the encouragement gained earlier in the season, a large number of fans will now consider the performance at Norwich as a sign of the real Arsenal.

It is now up for the team to prove it was an aberration by actually making sure that such a lethargic performance doesn't happen again. Defeats can happen, but a lack of effort and urgency to win a game should not.