Ozil can play better but remains hugely important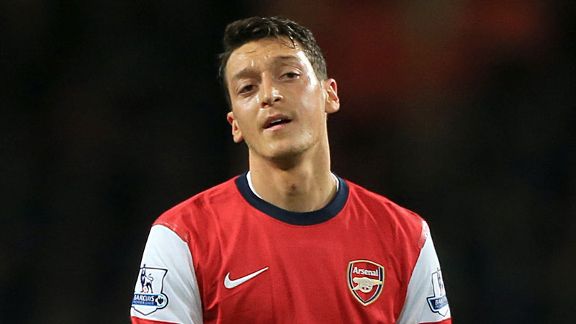 PA PhotosMesut Ozil has come in for unfair criticism from some quarters.
It seems odd that there's criticism from some quarters over the recent form of Mesut Ozil.

Although the German's performances are always looked at through the prism of the £42.5 million price tag, it's curious that a minority of Arsenal fans are openly questioning the talent and ability of the former Real Madrid man.

We live in a world of Pot Noodle opinion. A player can be the hottest property one month, a failure the next. However, the issue with Ozil is quite simple: he's a fantastic player who isn't playing as well as he can. There's not a lot more to it than that. It's not complicated.

- Cross: Arsenal masters of winning ugly

There's no doubt he can perform to a higher standard, he even said so himself ahead of the Fulham game so he's not lacking self-awareness, but perhaps there's just an element who always like to complain about something without giving it too much thought.

In the Premier League alone he's created 51 chances for Arsenal this season, and for the most part he's been denied the chance to operate with the kind of player who thrived from his service in Madrid. Theo Walcott's pace and ability to get in behind makes him the kind of player Ozil likes to feed and without the England international the Gunners lack those kind of runs.

Arsenal still have a tendency to be a bit narrow, with the wide players tucking into the centre, meaning it takes a pass of the utmost precision and timing to cut a packed defence open. Yet in the Premier League he averages three 'key passes' per game [via WhoScored], in Europe that's 2.7, and it's easy to see where Arsene Wenger is coming from when he describes the qualities of his most expensive purchase.

He says that people are looking for him to do things he's not in the team to do. "Sometimes people expect him to make the difference alone," said Wenger. "He is more a passer than a finisher.

"I think as well that the consistency of the quality of his passing slowly drains the opponent as he passes always the ball when you do not want him to do it. That allows us to take over."

So a few passes went astray against Fulham on Saturday, that's often true of the man who is trying to make something happen in the final third. The riskier, more difficult, the pass, the less chance there is of it being successful. A safe, lateral pass provides better stats but far less incision, and creators are also reliant on the players ahead of them.

Lack of movement, too many players crowded into the same area of the pitch, and teams who sit with many men behind the ball all make it more difficult. But then the focus on Ozil not having an impact in every match misses the point of football: it's a team game.

When you have others who can step up and make the difference -- as Santi Cazorla did against Fulham, or as Jack Wilshere did against Villa -- it offsets slightly under-par performances from other players.

Ozil is simply too good for this to be anything other than a small phase of indifferent form. It's not bad, by any means. There are teams up and down the Premier League who would be desperate for some of their players to play as 'badly' as Ozil in recent weeks, and the all-too-instant nature of football opinion needs to take a more measured look at what he's bringing to this Arsenal side.