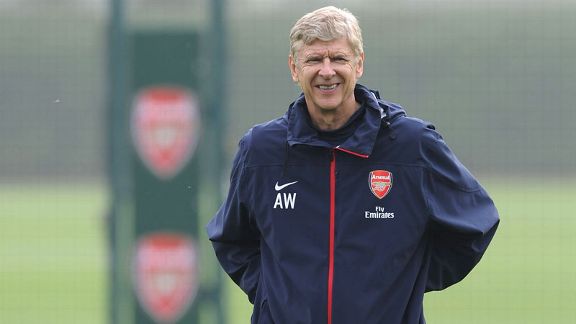 GettyImagesWenger remains coy over plans for his new signings.
At his pre-Fulham news conference on Friday -- after the tedious, irrelevant stuff about which Arsenal players might be fit to play the game itself -- the Sky Sports reporter took his chance to ask Arsene Wenger the burning question.

"Are you," he inquired, "any closer to doing a deal for Julian Draxler?"

"No," Wenger said.

The Sky Sports man wasn't to be put off, however. "There was a suggestion," he probed, eyebrows all-a-wiggle no doubt, "that he'd had a look around here at London Colney [Arsenal's training ground]."

Wenger paused.

"That must have been an unidentified flying object. People think they see them everywhere."

In print however, even if the UFO stuff is classic Wenger, we don't get the full story, because the Arsenal manager's smile said so much more than his words. A flat-out denial, the "no," was delivered with a grin, and regular Wenger watchers will know how dryly funny the Frenchman can be.

Despite being labelled "The Professor," you feel that if he really wanted, he could forge a decent career in stand-up.

"What's the deal with that transfer window? When you stop and think about it, isn't it just a marketplace for people who are being bought and sold like cattle? And don't get me started on airline food ... "

OK, so maybe he should stick to football management, but it's now abundantly clear that Arsenal have a genuine interest in Draxler. He has been on their shopping list for a while and was, last spring, the club's No. 1 target for the summer. Then he signed a new deal at Schalke, Wenger turned his attention to strikers, and in the end bought Mesut Ozil from Real Madrid.

The question now is, how far do Arsenal push it? Draxler's quality will hardly be a secret to the top clubs, but the "Wenger wants him" seal of approval is often used by those with deeper pockets to make up their own minds.

His summer release clause of 45.5 million euros seems to be manageable for Arsenal, given the new sponsorship deal with Emirates and a soon-to-be-announced kit deal with Puma, but any move before that will likely be most costly, simply because that's what it would take to convince his club to sell at this time of the year.

In the summer Arsenal are likely to have some rebuilding to do. It seems unlikely that Thomas Vermaelen will be happy to stick around as backup to Mertesacker and Koscielny, so at least one centre half will be required; both Lukasz Fabianski and Emiliano Viviano will depart, meaning goalkeeping backup is required; and with Bacary Sagna still yet to sign, it's not impossible to think they'll need a right back too.

Would spending on Draxler now affect their budget and the plans they have for the summer? Not to mention the fact the exciting young German is injured for a little while yet. He may take time to recover, and to adapt to a new club and surroundings, making January far from the ideal time to make the purchase, especially when the Gunners are fighting for the title.

Is it a risk worth taking? Or should Arsenal wait until summer, and find somebody short-term in the meantime -- a loan deal that could have a more immediate impact? There's much to consider for the Arsenal manager, but somewhere, the truth is out there.