Arsenal must not overlook case for the defence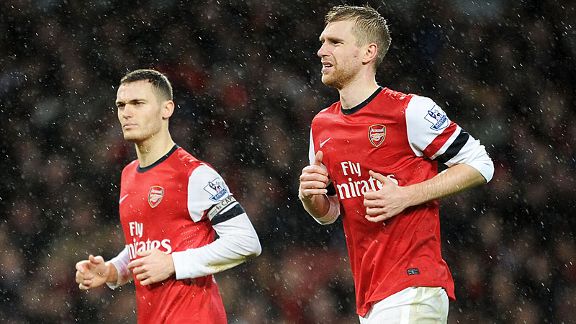 GettyImages Thomas Vermaelen is the only natural reserve should Per Mertesacker be ruled out.
All fans love to see their team sign a new striker. Goal scorers tend to hog the glamour and the limelight. Celebrating the acquisition of a new centre-forward is understandable: There's an excitement and immediacy about the promise of goals. The return on your investment is somehow more tangible than with a holding midfielder or rugged full-back. It remains a simple fact that a clean sheet does not get the heart racing like a last-minute winner.

Arsenal fans have more reason to be clamouring for a new forward than most. Olivier Giroud is in the midst of an excellent season, but the burden he carries is considerable. Lukas Podolski is lacking in form, favour and fitness. Theo Walcott will not play again this season. The one remaining alternative, Nicklas Bendtner, is sidelined with an ankle injury. Thus far, Giroud has borne the weight of responsibility manfully. Nevertheless, the fear persists that Arsenal are just one injury away from blunting their attacking force.

However, manager Arsene Wenger must not allow his desire for attacking reinforcements to govern his entire transfer policy. Another area of the Arsenal squad requires careful attention: central defence.

At first glance, that might seem absurd. The Arsenal XI boasts one of the Premier League's most effective central defensive partnerships. Per Mertesacker and Laurent Koscielny have a 28-game streak of not losing a match in which they have both played 90 minutes. Their last such loss was to Manchester United at Old Trafford in January 2012.

Look beyond that, however, and Arsenal's options appear worryingly limited. The Gunners have only one recognised reserve centre-half: club captain Thomas Vermaelen. Although Vermaelen's form has dramatically tailed off in the last two years, he remains a capable and committed deputy. But one backup centre-back is simply not enough. Arsenal are flirting with disaster.

Most of the Premier League's other big hitters have taken measures to ensure their defence has the requisite depth. Manchester United are able to call on Rio Ferdinand, Chris Smalling and Phil Jones to support Jonny Evans and Nemanja Vidic. If John Terry and Gary Cahill succumb to injury, Chelsea have David Luiz and Branislav Ivanovic ready to step into the fray. Even Liverpool list Daniel Agger, Kolo Toure, Martin Skrtel, Mamadou Sakho and Sebastian Coates in their ranks.

By contrast, Arsenal's options are high on quality but low on quantity. This summer, Arsenal allowed both Johan Djourou and Ignasi Miquel to leave on loan. Neither were replaced. An injury to any of their three existing central defenders would mean playing in vital Premier League games without a recognised centre-back on the bench.

It could even get worse. With Walcott and Bendtner laid up on the treatment table, Arsenal are currently having to manage without two centre-forward options. The absence of two centre-backs would severely disrupt Arsenal's defensive security.

Some will point to the versatility of Bacary Sagna -- and with some justification: The Frenchman has demonstrated an impressive ability to fill in at centre-back when required. However, while he might be capable of plugging the gap in the middle, he'd be a huge loss at right-back. His immediate deputy, Carl Jenkinson, remains a big prospect but is not yet in Sagna's class. Arsenal need someone who can step in with the minimum of fuss and disruption to the rest of the defence.

With talk of moves for the Madrid-based pair of Diego Costa and Alvaro Morata, Arsenal fans are excited at the prospect of a new striker. However, that alone should not satisfy them. If the Gunners want to ensure they have the necessary depth to land the title, a new centre-back must also be on the menu this January.