Arsenal make a tedious game terrifying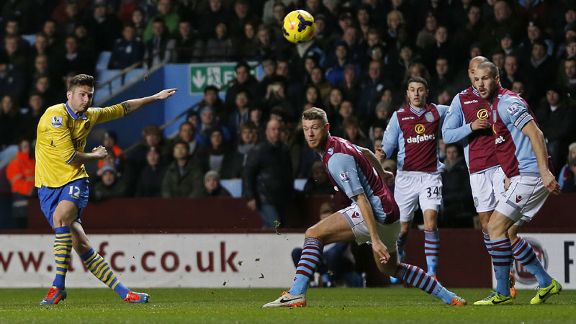 GettyImagesOlivier Giroud shoots wide against Villa.
Arsenal moved back to the top of the Premier League with a 2-1 win over Aston Villa was that was, for the most part quite tedious, but ended up with a nerve-wracking battle to hang on to all three points.

It looked as if it might be a game of 60 seconds as that's what it took the Gunners to open a two goal lead in the first half. Jack Wilshere opened the scoring in the 34th minute, controlling a Nacho Monreal pass and rolling the ball into the bottom corner.

And straight from Villa's kick-off, it was Wilshere who pressed, won the ball and set up Olivier Giroud to make it 2-0. The home side looked deflated, having only scored seven goals at Villa Park all season, while Arsenal played like a team that thought Villa's toothlessness meant the game was won.

The second half was abysmal fare. Villa were in the game more but it consisted mostly of Brad Guzan lumping it as far as he could down the pitch, which was meat and drink to Arsenal's defence. A couple of speculative long efforts caused Wojciech Szczesny no trouble, but when Santi Cazorla carelessly lost possession Villa took advantage.

A cross to the far post found Christian Benteke and he stooped to head home his first goal since September. Per Mertesacker's furious reaction said it all: Arsenal had been under no pressure but had, with one poor moment, reinvigorated Villa and the home fans.

It was needless and would have been more costly but for the fact that this is an Arsenal side that has shown time and again over the last 12 months that they can cope with situations exactly like this. Hanging on to tight leads has become something of a specialty.

As Villa launched long ball after long ball towards the Arsenal area, Mertesacker, Bacary Sagna, Laurent Koscielny and Kieran Gibbs (on for the injured Monreal) headed them away. Mathieu Flamini, in midfield, lacks the composure of Mikel Arteta but is the master of the tactical foul, knowing exactly when to bring down an opponent to stop a break.

It was, all the same, edge of the seat stuff in a game that Arsenal really should have controlled more fully. One more mistake, one more careless moment could have cost them the points they needed to above Chelsea and Man City.

After eight minutes of injury time in the first half there were six in the second after Tomas Rosicky was injured, which would have done nothing to ease Arsene Wenger's blood pressure. But his team showed again they can dig in and win ugly when required.

It might sound churlish to criticise after a good away win and three points, but as much as there are positives to take from being able to cope with pressure, there's also a lot to be said for not inviting it upon yourselves, and that's something the Arsenal manager will surely want his team to improve on.

A touch more desire or ruthlessness and they could have put the game to bed much earlier, but ultimately it's the points that count.