A new optimism at Arsenal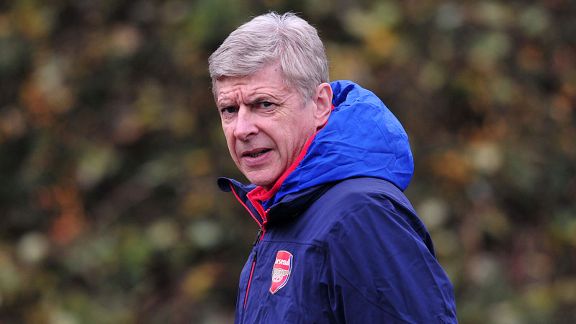 GettyImagesArsene Wenger is confident his side can secure a trophy this season.
Monday provides proof of how quickly things change in football. Back in August, in the first game of the new season, Arsenal lost at home to Aston Villa. They were running out of players and hadn't signed any big names in the summer, and it seemed like the end of the world.

Fans were in an uproar. The chants toward Arsene Wenger were horrific. The frustration etched all over the supporters' faces as four days later they had a crucial Champions League qualifier at Fenerbahce.

Now, five months later, Arsenal are pushing for the title and look in fine fettle, and Wenger's insistence that it was a freak result -- partly down to bad refereeing decisions -- seems logical.

It didn't appear that way at the time. Arsenal had failed with moves for big-name strikers like Luis Suarez and Gonzalo Higuain, and by then, the only arrival was young Yaya Sanogo on a free transfer.

Wenger tried to insist that his team, since the previous March, had been on a great run, title winning form in fact, and that the fans, the media, pundits and all were getting carried away. Now, we sit here recalling a fantastic first half of the season. The fans' faith in Wenger has been restored, his reputation revived, and Arsenal appear to be enjoying a remarkable renaissance.

Oddly, there are still some reminders of that shocking opening-day defeat to Villa. Alex Oxlade-Chamberlain suffered a knee ligament injury that has kept him out ever since, but he could be on the bench and make his return on Monday.

The debate still goes on about the depth of Arsenal's squad. Olivier Giroud is fit again and will return to lead the attack, yet he has very little behind him in terms of competition, backup or another strike partner.

Wenger is gambling on Nicklas Bendtner returning in a month; Theo Walcott is out. Although he mostly plies his trade on the wing, Walcott's absence is devastating because he offers something different: pace. He can put defenders on the back foot and can play wide or through the middle; England will miss him just as much. Lukas Podolski, meanwhile, is lacking match fitness and sharpness.

Arsenal simply don't have many options up top. Giroud has been superb in the first half of the season but can he carry it on for the whole of the campaign? That is the question.

Arsenal fans' frustrations were eased in August when they signed Mesut Ozil from Real Madrid for a record 42.5 million pounds. Equally, the combative Mathieu Flamini was a terrific acquisition on a free transfer, and those two deals quietened the sceptics.

But shouldn't Arsenal do something similar again this time? Wouldn't the arrival of a new signing -- rather like Ozil did -- give Arsenal a lift, a new feel-good factor as 2014 gets going?

Arsenal could do with another forward. It would be better to wait for a first-choice centre-forward than compromise on a third-choice now. But a loan signing would be perfect. However, Arsenal now approach the rest of the campaign in very different spirits. Part of Wenger's argument is that he likes a nice, tight, small squad. It helps unity. It is a genuine argument as to why he didn't buy more players.

You can see it when you look at the players together close up. The likes of Per Mertesacker, Wojciech Szczesny, Aaron Ramsey, Jack Wilshere, Mikel Arteta, Giroud and Flamini all thrive on this spirit. They are like a family. They work and battle for each other.

That's why I think Arsenal, as hopeful as they were before the Villa game on the opening day, have a new optimism about the future -- and specifically this season.

Arsenal, win, lose or draw at Villa, can be very positive about the second half of the season -- the title race, the FA Cup and Champions League.

Sure, Arsenal need a trophy. But Wenger has gone from being seen as the struggling, ailing and dithering manager to what he really is: hungry and determined for new success.

Publicly, Wenger admits Arsenal are seen as title outsiders compared to Manchester City, but he certainly doesn't see it that way. If the boss can win over the doubters in the five months since that awful day in August, just imagine what he can do in the final five months of the season.