Lukas Podolski has six months to save his Arsenal career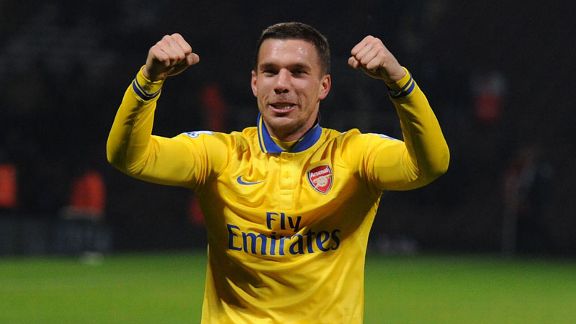 GettyImagesLukas Podolski: Must take his chance with Theo Walcott out.
As we enter the second half of the Premier League season, Arsenal find themselves embroiled in the tightest of title races. The Gunners' collective focus is undoubtedly on ending the long wait for silverware. Lukas Podolski, however, is also engaged in a race all his own: a dash against time to save his Arsenal future.

It seems strange that a player with more than 100 caps for Germany should be at risk of becoming surplus to requirements at Arsenal. Nevertheless, this seems like a crucial period for Podolski, who will turn 29 this summer. Soon enough, he will begin looking for the last big contract of his career. As things stand, it doesn't look as if that will be in London.

- Mangan: Oxlade and Gnabry get their shots
- Wenger: Rosicky Staying At Arsenal

Podolski's time at Arsenal began brightly enough. He had arguably the highest profile of the three players brought in to replace Robin van Persie in the summer of 2012. Although Santi Cazorla and Olivier Giroud both boasted solid reputations, Podolski arrived as a legitimate star.

The initial impressions were predominantly good. Podolski's vivacious personality made him an instant hit in the dressing room, and that positive impact was replicated on the pitch, too. The German scored Arsenal's first Premier League goal of the 2012-13 season, firing past Pepe Reina at Anfield in an impressive 2-0 win. In the very next game, he bent home a 30-yard free kick to notch his first strike at the Emirates Stadium

Podolski soon inherited the "he scores when he wants" chant that had been used to laud the achievements of Robin van Persie. Podolski even showed the ability to match the Dutchman's superlative volleying technique, scoring what was arguably Arsenal's goal of the season with an audacious airborne strike against Montpellier.

However, as 2012 rolled in to 2013, the German's fortunes took a turn for the worse. The Gunners suffered a series of dispiriting defeats, and Arsene Wenger was forced to redress the balance of his team. With Santi Cazorla being shifted to the left wing in order to accommodate an extra central midfielder, Podolski was sacrificed.

In the second half of the '12-13 season, Podolski was largely spotted making brief cameos from the bench. His smile never faded, but his impact dwindled considerably. After losing his status as an automatic starter, speculation about his future began. Moves to Juventus or Schalke were mooted in the press, but Podolski stayed.

With a full preseason under his belt, 2013-14 represented a chance to re-establish himself. However, ill fortune has played a significant role in his decline. His well-dispatched brace against Fulham back in August seemed to have thrust Podolski back in to the first-team picture. However, in the next game, against Fenerbahce, he tore a hamstring. The injury sidelined him for four months. At a time when Arsenal's best XI was still in flux, that layoff may have been particularly costly.

Podolski announced his return in the manner of a player keen to make up for lost time. Introduced as a substitute against West Ham on Boxing Day, he scored and created a goal in a 3-1 victory.

However, since that initial burst he has swiftly faded into the background once again. When handed a rare opportunity to start through the middle against Cardiff, Podolski disappointed. When you're outshone by outcast Nicklas Bendtner, you know something is awry.

Bendtner's injury and an illness to Olivier Giroud appeared to open the door for Podolski to play against Tottenham in the FA Cup third round. Instead, Theo Walcott was picked as the central striker. By contrast, the German spent the entire 90 minutes on the substitutes bench.

It has become clear that Wenger has deep reservations about fielding Podolski regularly. In the manager's most recent press conference, he declared he would have "no hesitation" about starting Alex Oxlade-Chamberlain -- a player who has been absent for fully five months and who returned to training only a week ago. Podolski has been in full training for more than four weeks now, yet his availability is still couched in remarks about his lack of fitness.

Either Wenger is protecting a player short of form, or he is finding excuses not to select him.

The answer may lie in comments Wenger made in October. Speaking to German ZDF Sport, the he appeared to reveal that he harbours doubts about Podolski's application: "Lukas Podolski is super-talented, he can play very well with others, has great power, can take free kicks and scores goals from anywhere, but he can develop and become better.

"You always have the feeling that he is 80, 90 percent there, but you want him to give 100 percent, and then he'll be world-class. There's more to come from him."

Whether we get to see that potential fulfilled at Arsenal remains to be seen. Time is running out.

Walcott's anterior cruciate ligament injury could hand Podolski a timely reprieve. One of the initial reasons for Podolski's exclusion from the team was that Wenger felt that deploying both Walcott and the German was simply too cavalier. However, with Walcott now unavailable, Podolski seems ideally suited to replace Walcott's goal-scoring contribution from the flanks.

If Podolski does not seize this final chance to impress, he could be heading for the exit door come the summer. Rumours are already linking Arsenal with the likes of Antoine Griezmann and Julian Draxler, who both occupy a similar role on the left flank.

The easygoing attitude that makes Podolski so popular could yet be his downfall. If he wants to become a regular and keep his place at Arsenal, he will have to rely on hard graft rather than hearty guffaws.

He has the talent. Now we'll discover if he has the fight.