Oxlade-Chamberlain and Gnabry get their shots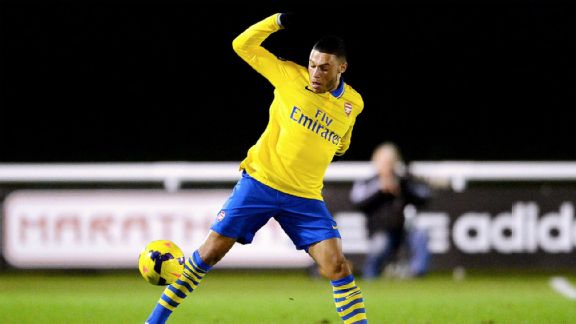 David Price/Arsenal FC/Getty ImagesTheo Walcott's season-ending injury opens the door for the returning Alex Oxlade-Chamberlain.
Theo Walcott's injury is heartbreaking for the player and a big blow to manager Arsene Wenger as he looks to continue his team's title fight, but it opens the door for two players whose inexperience could be both a help and a hindrance.

Between them, Alex Oxlade-Chamberlain and Serge Gnabry have made just 72 first team appearances. The England man, Oxlade-Chamberlain, is by far the senior with 60 of those, but that's still a long way from being experienced at the top level.

- Cross: Patience key in Arsenal striking hunt
- Report: Rosicky staying at Arsenal

He would undoubtedly have played more were it not for the posterior cruciate ligament injury he picked up on opening day against Aston Villa. That he might make his comeback against the same opponents on Monday night is a nice kind of symmetry, and it's interesting to hear Wenger say that he'd have no hesitation in playing him at Villa Park.

It's curious when compared to the Lukas Podolski situation. The German has been back in full training for well over a month now, and even at his press conference today the Arsenal manager spoke about how he'd be a great asset "when fully fit". He didn't feature at all against Spurs in the FA Cup, when he seemed an obvious choice for the first XI, but clearly Wenger knows his players better than we do.

The issue, in the absence of Walcott, is how to replace those goals and assists. Last season he chipped in with 21 and 14 respectively, and to place such a burden -- even shared -- on two young players, does seem rather a lot to ask.

With inexperience comes inconsistency, and that's generally not compatible with a team that is looking to secure its first league title in 10 years. Wenger will look to the more senior players to help bridge that gap and there's little doubt that the likes of Aaron Ramsey, Santi Cazorla, Podolski, Mesut Ozil and Tomas Rosicky can do more to support the strikers, Olivier Giroud and, when fit again, Nicklas Bendtner.

But with youth comes a kind of fearlessness. There can't realistically be any expectations of high quality performances week in, week out, so Oxlade-Chamberlain and Gnabry can play without the kind of pressure that often cripples more established players. Neither looks like the kind to be phased by the big occasion; Gnabry's display against Spurs in the FA Cup was a real indication of that, so perhaps that freedom might be a bonus.

When Ian Wright was injured in the 1997-98 season, Wenger's solution was to blood young French striker Nicolas Anelka. He might be in the news for the wrong reasons these days, but the 17-year-old scored eight times between January and May as Arsenal closed a nine point gap on Manchester United and won the title.

So it's not unprecedented for a young player to have an impact when the stakes are high. Wenger says his desire to do something in the transfer market has been "accelerated" by Walcott's injury, but Oxlade-Chamberlain and Gnabry might just give him pause for thought.