Patience key in Arsenal striking hunt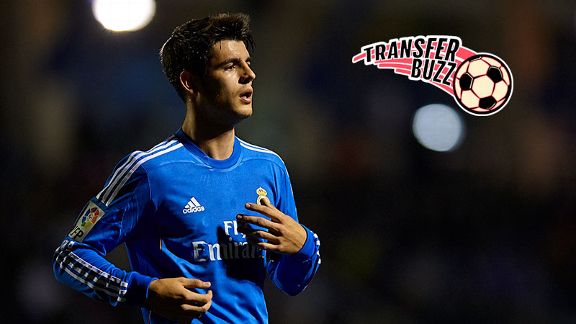 GettyImagesArsenal have identified Alvaro Morata as the best solution to their striking woes.
They say money can't buy you love. But in football, the general consensus on the transfer front is that cash is king and if you're willing to pay enough, then you can buy whomever you want.

Of course that is not always the case in the January transfer window. There are some obvious examples, like the 50 million pounds that persuaded Liverpool to sell Fernando Torres to Chelsea. But generally, clubs do not want to sell their players midway through the season. And that is the problem Arsenal faces.

The club have the money -- indeed, they were preparing to spend big on a new striker in the summer as well as on Mesut Ozil -- and if they could get their No. 1 target, then they would do the deal in January. But if you look at all of their top targets -- Edin Dzeko, Mario Mandzukic, Diego Costa and even Karim Benzema -- they are not available now.

You could offer Manchester City 50 million pounds for Dzeko and they'd probably say no. They don't need to sell. Nor do Bayern Munich with Mandzukic. Atletico Madrid are having a great season in La Liga and Costa would surely worry about leaving Spain in a World Cup year when, bearing in mind his complicated nationality issues, La Roja bosses have appeared to favour Spanish-based players in the past.

Real Madrid also do not need to sell Benzema, with Carlo Ancelotti claiming that no business would be done at all, and that is the case for FC Porto's Jackson Martinez, too, another on Arsenal's radar.

But Arsenal see Dzeko, Costa or Mandzukic as higher up their list, and if Martinez is in the second tier of Arsenal's targets, then is it really worth signing him now? A long contract and a failure to adapt midway through the season could be more trouble than it's worth at this stage. They could miss out on their No. 1 target this summer and potentially be left ruing the decision for some years.

However you look at it, signing a second-choice striker now is a true gamble. That's why I still think there's every chance that Arsene Wenger may keep his hand in his pocket this month.

From everything I hear, Wenger wants to do business. He acknowledges that Theo Walcott's injury has left the squad short, and Nicklas Bendtner is out for a month at least. But Alex Oxlade-Chamberlain is coming back, and Serge Gnabry can also provide cover for Walcott on the wing.

So if Arsenal do manage to do business in January, it may be a loan signing or an emergency stop-gap deal on the cheap from a cash-strapped club.

Signing Alvaro Morata on loan from Real Madrid would be perfect; he's young, hungry and full of potential. He would be an exciting arrival and would get some valuable game time, something that can help both sides. Arsenal are keen but the biggest obstacle is whether Madrid will agree to loan him out.

Otherwise, it seems Arsenal will wait. Last summer's botched pursuit of Luis Suarez was a painful lesson for the club. If they'd bid 45 million pounds and then 50 million pounds, who knows what could have happened? Instead, the infamous 40,000,001 million offer led to Liverpool digging in their heels, and the Gunners will be anxious to get it right next time they spend big.

Dzeko can get goals, and next summer he'll only have one year left on his contract. Mandzukic won't want to kick his heels on the bench when Robert Lewandowski arrives, and who knows, Wayne Rooney may even be available.

So while January may seem tempting and promising, Arsenal fans may get long-term gains with a bit of patience. Some striking depth will aid their title charge, but spending big in January may not be what is required.