Opportunity knocks for Arsenal's Ox
It is said that one man's misery is another man's fortune.

When Theo Walcott was ruled out for the remainder of the season, it created an opening for another of Arsenal's young England internationals. While Alex Oxlade-Chamberlain will have been empathetic about Walcott's plight, he will also recognise that this is now a huge opportunity for him to establish himself in Arsene Wenger's team.

The player known as "The Ox" has had his own injury problems in 2013-14. It's easy to forget that after an impressive preseason, he was selected in Wenger's first starting lineup of the campaign.

For Arsenal's Premier League opener against Aston Villa, Oxlade-Chamberlain was picked for the left-wing berth ahead of Lukas Podolski and Santi Cazorla. He started brightly too, bursting to the byline and crossing for Olivier Giroud to tap in after just six minutes. His bristling performance justified his selection.

However, Oxlade-Chamberlain's day soon took a turn for the worse. After a picking up an innocuous-looking injury, he was withdrawn from the field. A scan revealed he had damaged his posterior cruciate ligament. He was expected to miss as many as three months.

- Report: "Ox" sets World Cup target
- Tweedale: Replacing Walcott's goals, assists
- Palmer: Walcott transfer window replacements
- Mangan: Gunners can cope

In truth, when he does eventually return it will have been closer to five. The young winger restarted training this week, but Wenger has warned that he'll require a couple of weeks more work to become "competitive." Oxlade-Chamberlain may have provisionally earmarked Arsenal's FA Cup fourth-round tie with Coventry City on Jan. 24 as an ideal comeback game.

When he does return, he will surely be tasked with helping to fill the sudden vacancy on Arsenal's right flank. Serge Gnabry occupied that role convincingly against Tottenham, although at 18 years old it would be unfair to expect him to do it in every game. Although Oxlade-Chamberlain has also excelled on the left and through the middle, the majority of his experience has been on the right, and he seems the obvious choice to pick up where Walcott left off.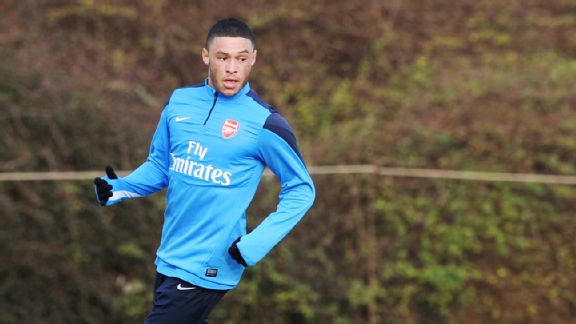 Stuart MacFarlane/Arsenal FC via Getty ImagesAlmost back to full fitness, Alex Oxlade-Chamberlain has a chance to shine for both club and country.

Ultimately, Oxlade-Chamberlain and Walcott share more than their Southampton heritage. They're both blessed with superb pace, although even the sprightly "Ox" would struggle to keep up with Walcott in a straight foot race. Both are strong dribblers and are blessed with a game-changing ability to beat a full-back with a combination of speed and trickery.

However, Oxlade-Chamberlain is not an Identikit replacement for Walcott. Speaking in September 2011, Wenger explained: "They look the same size, the same type of player. They are quite similar types but Walcott is a bit more of a striker and Oxlade-Chamberlain is more of a midfielder."

"He [Oxlade-Chamberlain] likes more to be in the build-up of things and Walcott is more a guy who makes intelligent runs."

Walcott is a finisher, but Oxlade-Chamberlain is more of a creator. While Walcott might have superior physical gifts, Oxlade-Chamberlain is blessed with greater technical ability. In many respects, he is more suited to Arsenal's intricate passing style.

The challenge will be making up the shortfall in goals. The Ox's shooting ability is not in doubt, as anyone who recalls his blistering long-range strike against Coventry in last season's Capital One Cup will testify. However, his scoring ratio could certainly be improved. To date, Oxlade-Chamberlain has just six Arsenal goals to his name.

To improve upon that tally, he will have to emulate Walcott's intelligent off-the-ball running. He has the technique to finish, but he needs to show the intelligence and desire to put himself in the right positions.

If Oxlade-Chamberlain can add goals to his game, he will be on course to develop into the complete attacking midfielder.

Good form between now and the end of the season could mean that Oxlade-Chamberlain not only replaces Walcott in the Arsenal XI, but also in England's World Cup squad. Oxlade-Chamberlain has been a consistent favourite of England boss Roy Hodgson, although the emergence of the likes of Adam Lallana and Andros Townsend had previously threatened his place in the final squad. However, Walcott's injury has resurrected his chances there too.

The 20-year-old would be justified in concluding that he is coming back to fitness at just the right time. With the critical period of the title race and a World Cup ahead of him, it certainly seems the case that it's better to miss the first half of the season than the second.

The chance to win both a Premier League title and a place on the plane to Brazil will surely be like a red rag to a bull -- or, in this case, an Ox.