January transfer window ins and out at Arsenal
Arsenal fans tend to approach most transfer windows with a sense of dread. Big hopes, expectations, optimism and dreams -- only to be left bitterly disappointed at the end of it all.

Last summer was worth the torture in the end as Arsenal smashed their transfer record to sign Mesut Ozil for £42 million, and his arrival gave the club an incredible lift, even if we are yet to see the best of him.

But it came after months of trying to sign a striker, with Luis Suarez, Gonzalo Higuain and Wayne Rooney all on their wish list. Yet the Gunners ended up with a midfielder. That is typical Arsene Wenger. Arsenal fans are promised much -- but generally end up with very little.
Wenger does need to strengthen in January, particularly in attack. They need a striker to provide backup, competition or to even complement Olivier Giroud.

Again, Wenger is making the usual noises. You can't get who you want in January. He's not a fan of the winter market and so on.

That's why I think the chances of Arsenal doing anything big in January are fairly slim. They may do a loan deal for a striker, and they certainly don't want to let anyone go.

It is a small squad, a tight squad, and Wenger sees that togetherness, unity and close-knit group as a strength rather than a weakness.

In fact, Wenger insists that trimming down numbers in the squad was a deliberate ploy even if, at times, they looked short of players. You can't argue with his policy at the moment.

But I think they need more players and quality if they are to sustain a challenge until the end of the season as the games pile up in the Premier League, FA Cup and Champions League.

So here's a look at who might come in -- and who might go. But don't expect too much activity.

HIT LIST
A striker to boost the squad and give Giroud a break, although Lukas Podolski is back to fitness and Nicklas Bendtner is a bit sharper.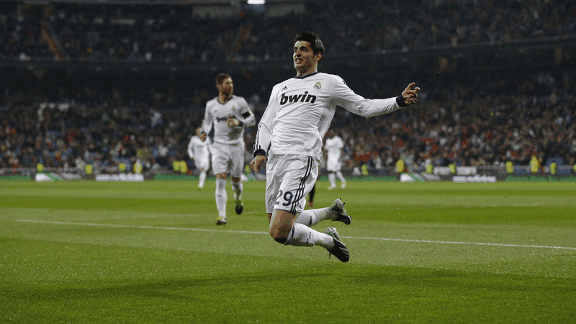 AllsportReal Madrid's Alvaro Morata is definitely a name on Arsenal's radar.
Real Madrid's young striker Alvaro Morata is definitely a name on their radar. Tottenham made an enquiry and think -- if he is available -- that he will be going to Arsenal. The big question is whether Real Madrid will let him go. It will only be a loan deal -- if at all. They also like Standard Liege's Michy Batshuayi, 20, but he would likely be loaned back.

At the other end of the scale, Arsenal have been tracking Atletico Madrid's Diego Costa. But they are unlikely to be allowed to do a deal in January. They have also been scouring Germany.

EXIT LIST
Arsenal do not have enough players to let many go. Bacary Sagna, out of contract at the end of the season, is likely to start talking to foreign clubs in January. But I can't believe Arsenal will sell him.

Schalke want Arsenal's No. 2 keeper, Lukasz Fabianski, but again, Arsenal are unlikely to let him go. Thomas Vermaelen and Nacho Monreal are worried about their World Cup places as they are not playing. But Arsenal won't let them go either.