Arsenal win ugly to go back on top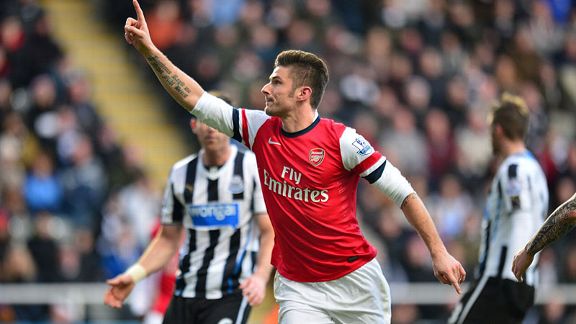 PA PhotosOlivier Giroud celebrates putting Arsenal ahead.
Arsenal went back to the top of the Premier League on Sunday with a hard-fought 1-0 win over Newcastle United at St James' Park.

They say that the ability to win ugly is one of the hallmarks of champions, and this victory was a kind of monstrous, eyes-in-your-hands, pus-oozing-orifices nightmare -- especially in the last few minutes -- as if the game were being directed by Guillermo del Toro ("Pard's Labyrinth," perhaps?).

Arsenal simply couldn't hold on to the ball as the home side bombarded them with the kind of artillery that, inevitably, leads to a miscued clearance and a chance for the opposition. However, the closest they came to scoring was when Wojciech Szczesny booted the ball straight back off Loic Remy's face, leaping in the air with relief when he saw the ball dribble wide of his post.

- Giroud wins it for Gunners

The Gunners had lost left-back Kieran Gibbs, requiring Mathieu Flamini to fill in at full-back, but when you're under pressure, having a back four of the Frenchman, Bacary Sagna, Per Mertesacker and Laurent Koscielny is no bad thing. They learned at the end of last season how to dig in and hold on to a game, and they did that again against Newcastle.

Between them, including Gibbs, they made a total of 49 clearances. Every time Newcastle lumped the ball in, there was an Arsenal man there to get it away. It was backs-to-the-wall defending at times, but they've learned over the last 12 months how to do that effectively and it served them well at St James' Park.

At the other end, shorn of Aaron Ramsey and Mesut Ozil, Arsenal did struggle to create. Santi Cazorla's passing was wayward at times, especially in the second half, and although he occasionally combined well with Jack Wilshere and Tomas Rosicky, there was little or no service for Olivier Giroud up front.

The striker worked hard and his hold-up play was excellent, ensuring that Arsenal kept the ball in tight situations throughout the first half and most of the second. Yet strikers' performances are generally judged by their goal tally, not the barely quantifiable, and in recent weeks he's been found wanting.

On Sunday, however, he made the difference. Theo Walcott's clipped free kick into the box, after yet another Cheick Tiote foul, saw Giroud float between two defenders and glance a header past Tim Krul for the only goal of the game. He really should have had another when he miskicked a rebound from just a couple of yards out, but the record books will show only that his goal won the points for Wenger's side.

It wasn't pretty, by any means, but it matters not a jot. Arsenal had to win against a team that has beaten Chelsea, Spurs and Manchester United in the last few weeks, and they did. Questions would have been asked if they'd failed to hang on, so they deserve credit for doing just that.