Cool the hype on Wilshere return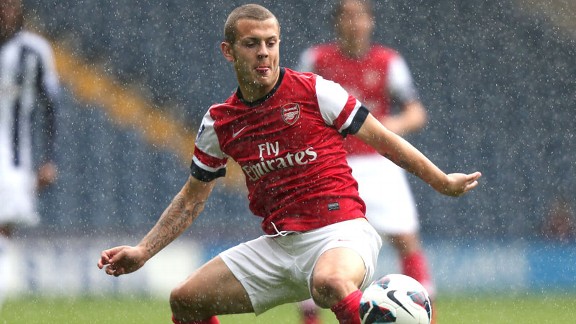 PA PhotosJack Wilshere is closing in on his return to the Arsenal first-team
As the daily countdown continues toward Jack Wilshere's imminent return to first team action, we could be forgiven for believing we are awaiting the comeback of one of the game's all-time greats.

- Wilshere in Arsenal squad
- Wenger delighted with midfield options

Relentless questions over the fitness of Arsenal's 20-year-old midfielder continue to dominate Arsene Wenger's pre-match press briefings at his London Colney training base, with the hype machine surrounding a kid who has never won a medal in his fledgling career cranking through the gears as we close in on a day that some are hailing as hugely significant for the future of English football.

Wilshere is blameless in promoting his return as he has declined interviews until he is back in first team action and proving himself as a Premier League player once again, while manager Wenger cannot be accused to fuelling the fire either, as he spent another Friday morning dampening the flames of hysteria developing around Jack's return.

The questions this week quickly turned from his first Premier League game in a season and a quarter to an England return, with suggestions that Wilshere could be the man to inspire England to victory at the European Under-21 Championships next summer and then the World Cup a year later. Not for the first time, an increasingly guarded Wenger issued a calm down message.

"Let's have Jack back playing for Arsenal before we even think about England at any level," stated Wenger. "Do you know what it is like not to play at the top level for 14 months? You cannot say he will be back to his best from the beginning."

Wenger went on to suggest Wilshere should not be asked to play for England at senior international level and for both the junior side, even if he returns to peak form and fitness. "I never believe that a player, once he has gone up to the top team, plays well with the Under 21s," added the Arsenal boss. "That's why I believe England has to make a decision - is Jack is either with first team or the Under-21s."

Just when it seemed as if the last Wilshere update has been aired for the day, news broke that Jack would, apparently, be a part of the Arsenal squad for the trip to Norwich this weekend. His agent Simon Bayliff broke the story on Twitter, despite Wenger's suggestion earlier on Friday that his midfielder would not be considered for selection for another week at least.

While some Premier League managers delight in throwing out curve balls to the media off in a bid to throw them off a story, Wenger has never indulged in such dark deeds, so those of us who have worked with the Arsenal boss for the last 16 years find it somewhat implausible to imagine Wilshere playing a leading role in the proceedings at Carrow Road on Saturday.

Wilshere is said to have been putting pressure on Wenger to give him his chance to return to action, but his trip to Norwich is more likely to be used as part of his re-integration to the first team fold, with a brief appearance at the end of the game an outside possibility if Arsenal are in a dominant position.

What should we expect from Wilshere some nearly a year and a half since his last Premier League outing? Wenger has hinted that it "may take as long as three months" for him to be at his maximum potential and England coach Roy Hodgson was eager to join the Frenchman in pouring cooling water on the euphoria surrounding this novice performer.

"Jack was a revelation when he broke into the England team, however long ago it was, but he's been injured since then," said Hodgson. "He's a wonderful talent and of course it would be terrific if he could reproduce that form when he becomes involved again.

"However, I'm keen to play down the expectations. When you've been out for well over a year, to come back and play like he was before might take a little bit of time. He's certainly one we're going to be watching very carefully, but first we have to wait and see how long it is before Arsene puts him back in the Arsenal squad."

Wenger's insistence that his starlet has lost none of the flexibility in the knee and ankle that have kept him on the sidelines for so long suggests there is hope he can return to his pre-injury form, yet it may be a sign of the desperation from Arsenal and England fans that Wilshere is being lauded as a saviour in waiting.

History confirms that players who spend more than a year out of the game often struggle to reclaim their former glories and all concerned need to be reminded that this imminent returnee is a young man with a track record of just 44 starts in the Premier League and five senior England caps. He boasts two goals and four assists to complete his legend. It is hardly a body of work that gives credence to the theory that he is on the cusp of world domination after so long in the shadows.

It seems as if Wilshere's legend has gathered momentum in his time away, and while all concerned would be wise to temper their enthusiasm as he closes in on a re-appearance, perspective is danger of being lost amid the growing haze of excitement.

All football lovers want to see Jack Wilshere back on a football field sooner rather than later, but realistic goals need to be set for a young man who has already been through so much in his short career.

Establishing himself as a decent Premier League player once again would be a good start.