Gunners try to rebound after missed opportunity
Can you really win the Premier League title by being flat-track bullies?

If Arsenal's defeats to the Manchester clubs and draw with Chelsea has proved anything, then it is that doubts remain over their mental strength.

Have they really got what it takes to win a title? Can they end their nine-year trophy drought this season?

If they had won any of those three games then the answer would be yes. It would have provided a shot in the arm, a stronger sense of belief and confidence when it comes to winning silverware.

- Mourinho shrugs off Arsenal criticism
- Silva hopes to acquire EU passport

Do the math, and of course you can win the title by beating all of the teams outside of the top four and drawing or losing against your main rivals.

That's what Arsenal have done so far, and they sit joint top with Liverpool, behind Brendan Rodgers' men only on goal difference.

Of course Arsenal can win the title. The country at large -- with TV pundits and media experts -- don't have to believe they can do it. Just as long as the Gunners believe they can do it.

And that's the problem. After going eight and a bit years since winning their last trophy, the FA Cup in 2005, most of this squad doesn't know what it takes to win with Arsenal.

Even Arsene Wenger confessed last week that it doesn't surprise him that the neutral doubts his team will win the title, admitting it's been too long.

Some Arsenal players have experience with other big clubs and on the international stage. Mesut Ozil has enjoyed success in his career. But if there is one player who has gone missing in the big games, it is Ozil.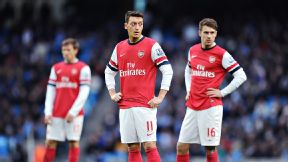 Stuart MacFarlane/Getty ImagesMesut Ozil, center, and his Arsenal teammates need to step up in games against top-table teams.
Ozil was anonymous at Manchester City, poor at Manchester United and on Monday was subdued and kept quiet by Chelsea and their tactics.

Per Mertesacker is a big character, Wojciech Szczesny, Bacary Sagna, Mikel Arteta, Theo Walcott and Olivier Giroud are all good players and good influences.

But they haven't won too many trophies between them. They have all been excellent this season and played major parts in Arsenal's promising start to the campaign. But they also need a sense of belief.

I feel quite sure that all of them would argue that there are no doubts in the camp and the dressing room is filled with confidence.

But it's not even about a lack of belief. It's about a strength of belief. Beating Manchester City, Manchester United or Chelsea would have given them extra confidence.

A confidence that they can beat a direct rival, an extra spring in their step, an extra inch or two as they look to stand tall and an extra sense of belonging and worth as potential champions.

Wenger has won titles and knows that the first piece of silverware is the most important. For most of this Arsenal squad, it would be like winning a trophy and starting a new era of success.

There can be no doubt that Arsenal are contenders and will be in the mix by the end of the season.

They have got quality throughout the squad, even if there are some lingering doubts about the depth, which means you can't rest and rotate players when you need to.

Aaron Ramsey is a case in point. Maybe it's even a bit late to rest him for a game or two. He looks so tired at the moment that he almost needs a month off. The trick is to rest him before he gets to that point.

Ramsey and Ozil were probably Arsenal's two quietest players in the 0-0 draw against Chelsea on Monday. Ramsey played one really nice pass that Giroud nearly scored from.

But while Arsenal cursed decisions and Chelsea mocked them for doing so (the X-rated foul by John Obi Mikel on Arteta and the Willian trip on Walcott), they did not possess the winning mentality or cutting edge to take all three points.

You can actually make a good case for Arsenal being stronger this season, as two or three years ago they may have lost to Chelsea rather than at least get a point.

But just imagine the buzz they'd have got by beating Chelsea. It would have got them no more points compared to beating a mid-table side. But it would have given them a new belief and confidence.

They beat Liverpool earlier in the season, but were held by Everton. For the belief that beating title hopefuls Liverpool gave them, it has been checked by the failure to dispatch the established big guns.

They can regain top spot by winning Thursday at West Ham on Boxing Day. The players will argue they all believe. But deep down, that Chelsea game was a missed opportunity -- a missed opportunity to get all three points, show the wider world that they can compete with the best and prove to themselves that they can do it.

That's a crucial factor in any successful team. Self-belief. And until Arsenal pull off a couple of big results, then the same old doubts will remain.