Time for Arsenal stars to become legends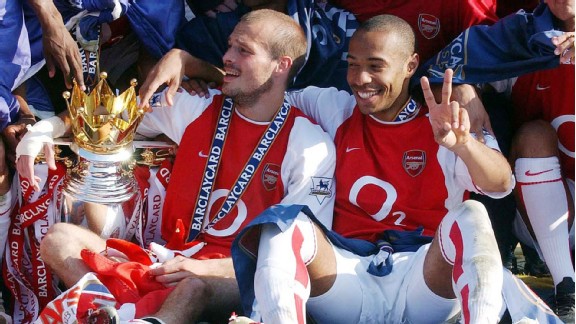 APFreddie Ljungberg, left, and Thierry Henry with the Premier League crown.
This week I was lucky enough to go to a screening of "Arsenal Legends: Thierry Henry."

It is a fabulous film detailing Henry's rise from youngster to World Cup winner, to big Arsenal signing, to club legend.

Henry was present at the Diamond Club, along with fellow greats Ian Wright, Ray Parlour, Sol Campbell, Jens Lehmann, Martin Keown and David Seaman.

- Mangan: Walcott, Podolski returns welcome for Gunners
- Delaney: History in the making

The film, narrated by Henry and shot through his eyes and recollections, threw up some weird and wonderful memories and quirks.

Such as his hatred -- hard to think of any other word no matter how hard I try -- of Tottenham and his desperation to step off the bench and score to make sure they didn't win the final North London derby staged at Highbury.

Also, how Henry celebrated at White Hart Lane when Arsenal clinched the Premier League title there in 2004, despite being told not to by stewards and police. And remembering Mauricio Taricco celebrating wildly (so wildly he got a cramp) after Spurs drew -- yes, drew -- against Arsenal. A point was enough to win the title, so hard to know why Taricco was so happy.

My personal favourites were Henry revealing he became driven to always play well against Liverpool after feeling robbed by them in the 2001 FA Cup final, when Arsenal lost despite dominating the game.

Or, finally, his favourite ever moment in an Arsenal shirt was when he scored against Leeds in the FA Cup after he came back to the club on loan from New York Red Bulls. He had won titles and cups with the Gunners, yet that goal meant more. Yes, really.

Henry was always passionate. Always great for the press. He'd regularly ring me to make a point (sometimes calmly, sometimes angrily) about a story or a headline. I'm all for that. I enjoy the dialogue and he was a top guy.

Sure enough, when I saw him last week, he was immediately friendly: "I haven't seen you in far too long." I enjoyed asking him about his new role in the media as a TV pundit and, typical of Henry, he then admitted that he had analysed every bit of his own analysis.

Henry will be brilliant as a pundit because he does his research, is a tireless student of the game and is passionate.

Our relationship goes back many years, to when he started at Arsenal. Back in those days, in 1999, journalists generally took it in turns to go down the tunnel, speak to a player (generally the story of the match) and share the quotes among the daily newspapers.

After Henry scored his first ever-goal at Southampton, I went down the tunnel at The Dell and spoke to the Frenchman, who was destined to become Arsenal's greatest striker.

Henry was a long way from the confident man he is today. A bit nervous, his English a long way from what it is now. But sure enough, there was still a joke about worrying the ball was going to go sailing over the bar.

Henry is a class act. Full of power, pace and goals. A world-class striker who stayed at Arsenal for eight years, turned down huge moves when he was the most sought-after player in the world and is a club legend.

Henry established that status with his goals, but also his passion for the club. The film was fabulous. For a movie produced in-house, it blew me away. Right up there with the "Keane & Vieira: Best of Enemies" documentary.

But it also got me to thinking ... who is the new Henry? It would be hard for anyone to emulate his goals. But who could stay at Arsenal and become a legend like some of those guys; like Henry, Parlour, Wright, Keown, Seaman, Lehmann and Campbell.

Bacary Sagna has been there since 2007. He's been so loyal. But there's nothing like a striker to win the fans' hearts.

Or a player who is incredibly passionate in public about their team. Players such as Wojciech Szczesny and Jack Wilshere, who both came of age at the club, they could stay a long time and become legends.

Per Mertesacker has a connection with the fans. You wonder if Mikel Arteta can do that. If Mesut Ozil can win trophies with Arsenal then maybe, just maybe, you could see him compared to Dennis Bergkamp.

Kieran Gibbs, Theo Walcott and Aaron Ramsey are all young enough to stay at the club for the best years of their careers, be successful, win trophies and become legends.

There can be no doubt that Arsenal fans still look at a few names from yesteryears and wonder about the current bunch: Where are the ones who will stay for life or become greats?

But the reality is that to become legends and be all-time greats, you have to show loyalty and, most important, win trophies.

That's why Henry is in good company for his films. Bergkamp and Nigel Winterburn have made one. Lee Dixon's film is out soon.

So to be part of history, the likes of Wilshere, Walcott, Ramsey, Szczesny, Ozil and Mertesacker know that their popular status among fans will only elevate further when they have trophies to show for their efforts.