Wilshere should look to Ramsey as an example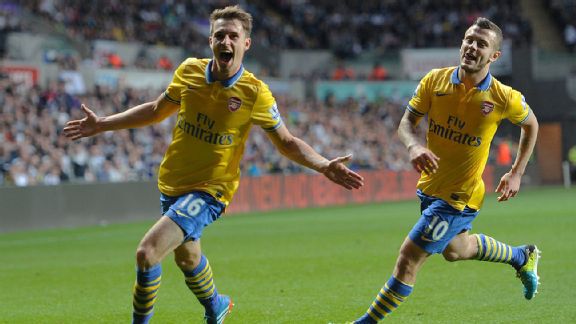 David Price/Arsenal FC/Getty ImagesAaron Ramsey, left, has elevated his game this season for Arsenal while Jack Wilshere, right, has struggled with consistency.
Having made it quite clear to Manchester City fans -- with a universal single-fingered gesture -- what he thought of them, Jack Wilshere will miss at least one Arsenal game. It could be two if the new FA disciplinary panel gets its way.

- Cross: Decision time for Wenger on Wilshere
- Report: FA charges Wilshere over gesture

FA wants to crack down on hard on this kind of behaviour and is pushing for two games. Wilshere has admitted the charge but challenged the two-game ban, and a hearing on Thursday will decide his fate.

If upheld, he'll be out of action for the Chelsea game on Monday and the trip to West Ham on Dec. 26. Either way, he has some time to reflect on his season thus far. It has -- I think it's fair to say -- been a mix of good and bad, with a healthy dollop of indifferent thrown in.

Wilshere has scored four goals, higher than in any other season until now, and made one assist, but it's hard not to have concerns about his all-around game. He was found wanting, in a big way, against Man City this past weekend. Some will say that's because he's been deployed in a wide midfield position that simply doesn't suit him.

Maybe we could ask Marseille what they think of Wilshere the wide man after his two goals secured a 2-0 Champions League win at the Emirates just a few weeks ago. He looked like he knew what he was doing that night.

Yet Wilshere has had some really poor performances before City, too. Away to West Brom he was so bad it looked as if Arsene Wenger would have to bring him off. Instead, the manager kept faith in him, and Wilshere fired home Arsenal's equaliser on the day.

He is, basically, a player struggling for consistency, but it's curious to read such strident criticism of him when there is another player in this Gunners side whose story is almost identical. A midfielder who suffered a bad injury, who came back, had some good games, some bad, was played out of position (in the wide areas, too), but whose quest for form was so fruitless that many doubted he'd ever turn it around and make it at the club.

Now, of course, Aaron Ramsey is the top scorer and probably the most in-form, and improved, midfielder in Europe. However, as much as fans might look at him as a reason to keep patience with his English counterpart, Wilshere himself could do worse than study what made Ramsey the player he is today.

In his desire and eagerness to impress, he'd try things that simply weren't sensible. Little flicks and tricks look great when they come off, but when you're giving the ball away time and time again, you need to go back to basics.

That's what Wilshere needs to do. He's almost trying too hard and looks burdened by the expectation, most of which will come from within himself. What Ramsey did was simplify his game. Make sure a pass goes where it's intended, maintain positional discipline so you're there to make the tackle rather than desperately chasing back, listen to your teammates and coaches, and don't take risks in dangerous areas of the pitch.

With that mindset, Ramsey grew in confidence to become the player who has set this season alight. His career has taken a huge step forward, and to a certain extent he's left Wilshere behind. Not so long ago the situations were reversed. Ramsey was the bete noire, Wilshere the great hope.

But if Wilshere can look at his colleague, get his head down and use him as an example (and what an example), he'll find himself in a better place. The frustration that caused him to give City fans the finger won't surface. That was a consequence of his own subpar performance, and nobody knows better than the player himself when he's not doing well.

Maybe the time off will give him time to think and set himself back on track. He's a genuine talent who has lost his way a little bit, but anyone writing him off at this stage hasn't learned any lessons from the Ramsey renaissance.