Decision time for Wenger on Jack Wilshere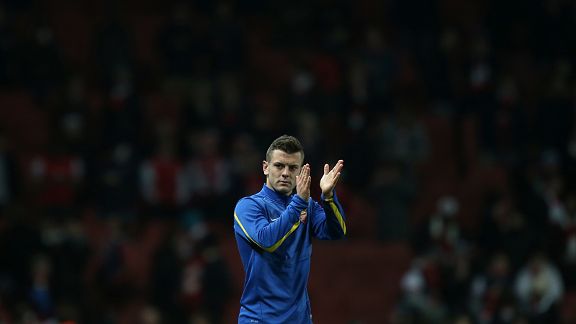 PA PhotosJack Wilshere has been played out of position on the wing.
There is a big call to be made by Arsenal boss Arsene Wenger on the role of Jack Wilshere -- one of his most talented players in a squad packed with quality in midfield.

Wilshere is England's outstanding midfield hope for the future. He carries a huge weight of expectation on his shoulders for club and country.

But at the moment, Wilshere finds himself shunted out wide in Arsenal's midfield. And although there have been some decent performances, it's not really working.

- Hirshey: Arsenal's wobble and squabble

Wilshere's talent is being compromised because he is not a wide player and it is time for Wenger to either pick him in the middle or not pick him at all.

Personally, I'd still put Wilshere in the middle, and the point is that Arsenal have so many games coming up that they will need all of their players.

The tough Premier League programme is as unforgiving as ever. They've got a hard run of games, starting with Chelsea on Monday, and the FA Cup starts with a really tough draw at home to bitter rivals Tottenham.

Then, on the horizon, is Bayern Munich in the Champions League. Refreshingly, the German giants and current European champions seem as nervous about playing Arsenal as Wenger is about facing Bayern.

So even though Arsenal have a selection headache over who play in midfield, that won't last for long. Everyone will be needed.

In the meantime, it's unfair to be judging Wilshere's performances and form while he plays in a position that is not natural to him.

His game is surely about driving from central midfield, picking passes and making things happen. He's no slouch but he's not a pacey winger putting over crosses.

If Arsenal play their 4-2-3-1 formation then Wilshere should be a part of that two in front of the back four, in the deep-lying position Wenger has suggested would suit the player best.

It used to be Aaron Ramsey pushed wide last season and the crowd got frustrated with him. Ramsey's performances and goals have meant he now plays in the middle, where he prefers. Then you also have Mikel Arteta, Mathieu Flamini, Mesut Ozil and Santi Cazorla.

Cazorla is the one who can play wide in an effective way the others can't. In fact, Cazorla, still struggling for his best form and sharpness, used to play wide left during his time in La Liga, before he came to Arsenal.

So Wenger has tough decisions to make. Wilshere is a brilliant midfield talent. But, as the defeat at Manchester City reminded us, the England international is not a wide player.

I'm sure he'd rather play wide than not at all. But for the sake of his own form, confidence and performances, it's time to play him in the middle, or not at all.

That's the brutal choice. He gets in my Arsenal team, and Wenger has enough games to go round, although the Frenchman's resting and rotating policy seems a bit random; why rest Kieran Gibbs against Manchester City when his pace was needed? That was a bit odd.

Arsenal will need all of their players in the coming weeks. And with Theo Walcott back and Lukas Podolski and Alex Oxlade-Chamberlain coming back, there will be no need to compromise Wilshere by playing him wide for much longer.