Arsenal self-destruct against ruthless City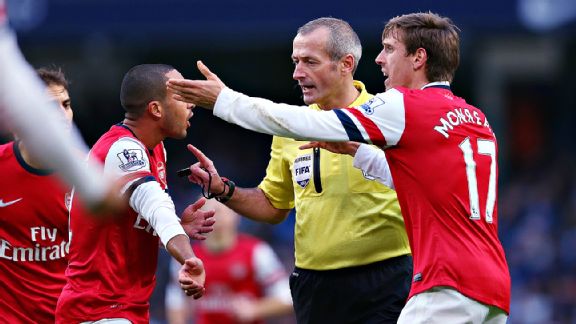 Clive Brunskill/Getty ImagesArsenal appeal for a refereeing decision against Manchester City.
It's fair to say a tough week finally caught up with Arsenal as they went down 6-3 to Manchester City.

After a gruelling midweek trip to Napoli, and a tough game against Everton, there were tired legs in that Arsenal side, and the consequences of that against a City side that is devastating in attack were obvious.

The Gunners' performance was littered with individual mistakes the home side ruthlessly punished. When Laurent Koscielny let Sergio Aguero run off the back of him from a corner, the City striker lashed home a fantastic volley to open the scoring. A great finish, but poor defending.

- Leaders stunned by free-scoring City

City's third came when Mathieu Flamini failed to control a Mesut Ozil pass; the fifth came when Jack Wilshere gave the ball away in midfield; the late penalty came from a wayward Serge Gnabry pass that gave James Milner the chance to take a dive; and you could ask questions of the defending for the other two goals.

All in all, it was pretty shambolic display from the team that, until Saturday, had the best defensive record in the league. A manager can't really legislate for that many individual errors, and, although there's no doubt that there was lethargy to Wenger's side in the final stages, the game was still interestingly poised at 3-2 in the second half.

Having gone 3-1 down, Arsenal's response was fantastic. It wasn't Olivier Giroud's day, and he spurned two very presentable chances -- a volley at the back post and a header that flew wide from a Bacary Sagna cross -- but, when Theo Walcott curled his second of the game into the top corner, it looked as if it was game on.

However, when poor defending from Nacho Monreal and Per Mertesacker allowed David Silva to poke home City's fourth just a couple of minutes later, it was almost as if Arsenal deflated. Having worked themselves back into the game, it was a demoralising goal to concede, and, from that point on, they looked as if they were running through treacle.

A team as good as City could always exploit that, and, with Arsenal so willing to give them a helping hand with sloppy passes and being careless in possession, there was never any question where the three points were going. Afterwards, Wenger broke it down very simply: "We made too many mistakes in the middle of the park."

They weren't helped by some head-scratching decisions by the linesmen, whose interpretation of the offside rule was unique, to say the least. City's second goal came moments after an Arsenal move was stopped by the flag, but clearly Monreal was onside. There were two disallowed goals that should have been given, and a number of other offsides that weren't, but even so, the result was one of the Gunners' own making. They hit the self-destruct button too many times.

So, what now? It's not as if Arsenal have a couple of easy games to get back on track, the next opponent is Chelsea, and you won't have to go far over the next week or so to be reminded about how Wenger has never beaten a side managed by Jose Mourinho.

However, that game takes place on Dec. 23, giving the Gunners plenty of time to look at what went wrong against City but also to rest and recover ahead of the busy Christmas period. Fatigue doesn't excuse the mistakes they made here, but it's clear tired players make more errors.

A fresher squad will give Chelsea a different game. And it's not as if things are all bad -- Arsenal are still top of the league, and, with Walcott marking his return with two goals, there are still positives to take from what was a bad, but rather bonkers, day.