Arsenal with no reason to fear in round of 16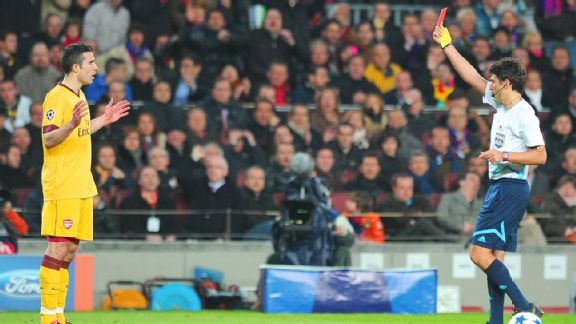 Carl de Souza/Getty ImagesRobin van Persie's second-leg red card against Barcelona in the 2010-11 Champions League round of 16 could be avenged should the Gunners draw the Catalonians once again.
Most Arsenal fans will be disappointed with the teams that they can face in the round of 16 in the Champions League.

Expecting to face the big names of Europe in the most prestigious tournament around, they now have to contend with some of the lesser lights. Teams that might not be familiar to the average football fan. Whoever heard of Real Madrid (a team that that takes its name from the fact that somebody else tried to impersonate them on Twitter)?

- McNicholas: Arsenal with reason to be proud
- Report: Wenger hoping for kind draw

Then there's Atletico Madrid? How big is that town? Why do they need two football teams? Don't they know stuff like this divides families and friends?

Barcelona, famous only for hosting the Olympics in the 90s and a half-baked Freddie Mercury song? Paris Saint-Germain, the French team that stole their name from a deep house DJ who lived in the 12th arrondissement. And finally Bayern Munich, which isn't even in a bay. Talk about breaking the Trade Descriptions Act.

Arsenal should have no worries at all about facing any of these sides. They've got no track record at this level, no history of success, and certainly none of those teams have any of the best players in the world, some of whom score goals for fun. Probably with their eyes closed, just to make it challenging.

OK, so perhaps I exaggerate, and there's no doubt that it could have been easier for the Gunners. Had they finished top of their group the potential opponents would have included Galatasaray, Olympiakos, Schalke and Zenit St Petersburg (a reunion with old boy Andrey Arshavin).

But think of it this way: those are potential opponents for those who have finished top, but none of them will particularly fancy playing Arsenal. They might not consider that a just reward for topping their group. Having to play a team that has, in 2013, beaten holders Bayern Munich and the most recent finalists Borussia Dortmund ... and away from home, no less.

Sometimes progress in the tournament comes at the expense of excitement. Arsenal-Zenit is a challenge, but hardly the most appealing of ties from a footballing point of view. The Champions League has long suffered from fixtures that are dull and/or meaningless. It's not too many years hence that there was a second group stage; somnambulistic dead rubbers at the end of both stages were commonplace.

It's a tournament that should, essentially, be about pitting the best against the best. Facing the biggest teams in Europe is a challenge the Champions League throws at you eventually, and nothing is a foregone conclusion in football. In 2006 nobody gave an Arsenal team with a back four of Eboue-Toure-Senderos-Flamini a chance of beating the mighty Real Madrid at the Bernabeu.

I was there. I watched it happen. There's no reason something like that can't happen again. It's too easy to look at the worst possible scenario -- the cloud with more cloud rather than any silver lining.

Arsene Wenger might well have wanted to top the group, but from a purely sporting point of view, Arsenal fans shouldn't be fearful. Instead, they should be excited about the fare the tournament is about to provide.