A point well earned, not two dropped for Gunners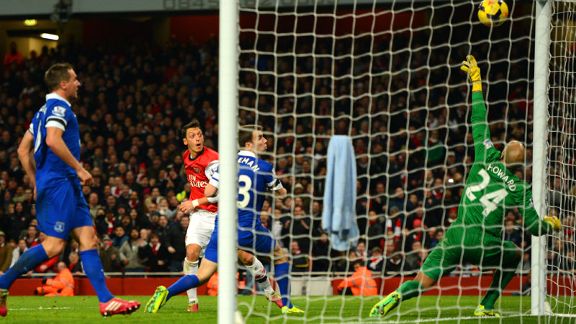 APMesut Ozil slots home the opener for Arsenal against Everton.
Arsenal had the chance go seven points clear at the top of the Premier League with a win against Everton at the Emirates on Sunday. Instead, the Gunners have to settle for being just five clear after a pulsating 1-1 draw.

If there's frustration from Arsenal fans that points have been dropped, it's misplaced. Everton were fantastic and the progress they've made under new boss Roberto Martinez is obvious. Under David Moyes they were always difficult, obdurate opponents; but with the Spaniard at the helm they've added some genuine attacking verve and showed, with their win at Old Trafford, that they're a match for anyone in the league.

- Jagielka hails Everton youngsters

It's rare to see Arsenal outplayed and out-passed, but for the first 40 minutes Everton controlled the game. Most of that was down to the quality of their performance, but some heavy legs in the Arsenal side contributed too.

It took them some time to get into the game, which they did with a flurry of late-first-half efforts that saw Tim Howard make good saves. Indeed, both teams can look back at this match and thank their goalkeepers for excellent displays. At the other end Wojciech Szczesny had no chance with Gerard Delofeu's brilliant equaliser, but was alert and strong throughout, making a number of good saves.

Having gone ahead in the 80th minute when Mesut Ozil poked home from close range, you'd have fancied the Gunners to see the game out, especially with their recent defensive record. But Everton have some character, and in Delofeu a young talent with the ability to do something special and unpredictable.

It's hard to argue against the fact that the visitors deserved something from the game. They were certainly the most difficult and accomplished opponents the Gunners have faced at home this season, and as a test of their title credentials it was a game they had to get something from. If a point wasn't as good as it might have been, it's certainly not a bad result by any stretch of the imagination.

The results from Saturday's fixtures gave Arsenal something of a margin for error, but it's doing Everton a disservice to suggest their point came from anything other than a brilliant performance.

The slight concern, from an Arsenal point of view, will be the tired legs, which aren't going to get much rest this week. The Gunners fly to Napoli on Tuesday and come back in the early hours of Thursday morning before travelling to Manchester on Friday.

It's going to be a huge test, and it might well be a case of mind over matter for certain players. They'll have to play their way through fatigue, and if the likes of Aaron Ramsey and Jack Wilshere can't contribute, then it's not unreasonable to look to others, like Theo Walcott and Tomas Rosicky, to add some end product to pick up the slack.

All in all, it was a difficult point, but one that still extends Arsenal's lead at the top of the Premier League table. That some people might complain it's five points and not seven is, in itself, a significant sign of how much things have changed at Arsenal this season.