Striker signing still needed at Arsenal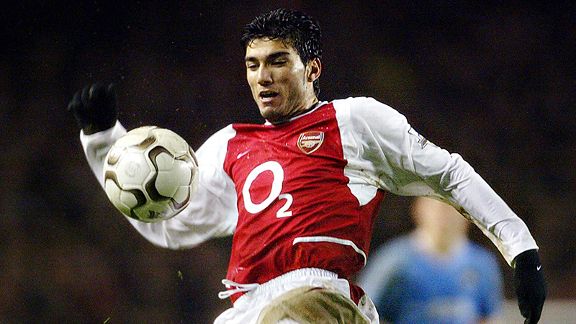 Odd Andersen/AFP/Getty ImagesJose Antonio Reyes' mid-season arrival in 2004 is a reminder for Arsenal that a January addition can help propel a team to a title.
This week will go a long way toward deciding Arsenal's fate this season. It will also highlight the need for manager Arsene Wenger to strengthen his Arsenal squad in January.

While Nicklas Bendtner, with his goal against Hull, reminded us all that he is still around, surely Arsenal still need reinforcements. Bendtner is a quick fix rather than a long-term solution for a tough season ahead, let alone a daunting week.

- Mangan: Fluid machines makes rotation easier

Arsenal face a buoyant Everton side on Sunday, fresh from their victory at Manchester United on Wednesday night. Roberto Martinez's men will come to the Emirates with their tails up. Arsenal must then go to Napoli needing a result from a tough fixture, which they must have hoped was going to be a dead rubber, before they travel to play Manchester City on Saturday.

It all explains why Wenger rested players and made five changes against Hull as the likes of Olivier Giroud, Jack Wilshere and Kieran Gibbs needed a break. Arsenal do have some good depth in their squad, particularly in midfield. Wenger has plenty of options. And, in fairness, with Theo Walcott and Lukas Podolski returning, they do look healthier up front with options alongside Giroud.

But while it is good to cover injuries and allow Giroud to have a break, it would give Arsenal such a lift if they were buyers in January. They have done it before. Jose Antonio Reyes arrived midway through a campaign and gave the Invincibles a major turbo boost, pushing them on to the title in 2004.

Walcott, Abou Diaby and Emmanuel Adebayor arrived in January 2006. One became an Arsenal and England hero, another has been injury plagued, and the other made the club a lot of money when they sold him. While those three have had differing success in their careers, they -- like Reyes -- gave Arsenal's season a lift.

That's exactly what a good signing in January could do this time. He doesn't even need to be a legend or a huge success; the excitement can give a tiring squad a lift. Just look at Mesut Ozil as a great example of this. He's a world-class talent who will get better and better. He has the ability to become an all-time great for Arsenal.

But more than anything else, he changed the mood of the club. Arsenal went from having grumbling fans to being a dressing room full of smiles and excited players. So far, Ozil has done as much to lift spirits off the pitch as to inspire them on it. It has been 42 million pounds well-spent, in my view. It's changed a whole philosophy and outlook.

Arsenal will struggle to sign a world-class talent in January. They're normally unavailable, cup tied in Europe or simply not for sale. But a young talent, a loan deal or a player who has a buyout clause would be enough to raise spirits and give Arsenal's highly promising title challenge another shot in the arm.

Arsenal have a great chance to win the title. But Manchester City have a bigger squad. With one more inspirational signing, Arsenal can do it. It may also stop various pundits from looking for reasons why Arsenal can't win it and instead focus on why they can.