Returning players give Wenger optional extras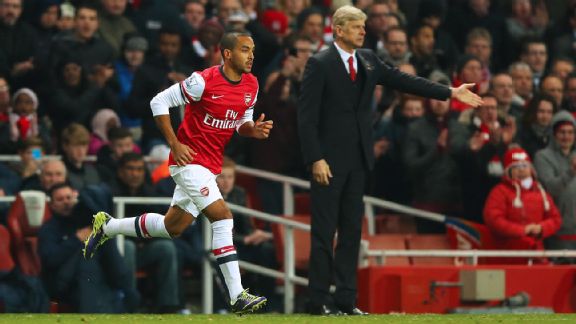 Clive Rose/Getty ImagesNow that Arsene Wenger can send Theo Walcott back out on the pitch, Arsenal have yet another dimension in attack.
The injury problems Arsene Wenger has faced this season have, in some way, made his life easier when it comes to team selection.

He's been without Alex Oxlade-Chamberlain since the opening day of the season; Lukas Podolski's comeback might now be imminent but the German hasn't played since tearing his hamstring on Aug. 27; new signing Yaya Sanogo has disappeared to the point that people forget he exists; both Theo Walcott and Santi Cazorla have had extended spells on the sidelines, and because of that the Arsenal manager hasn't had to deal with too much in the way of rotation.

Now, with players back and the fixture schedule looking extremely demanding over the next few weeks, it's something he's got to consider, starting with Wednesday night's encounter with Hull City.

- Wenger rejects Pato, Morata rumours

There is a danger that big teams sometimes think they can take games against newly promoted sides for granted. Certainly Arsenal have been guilty of this in the past, but they can also make life more difficult for themselves by disrupting the flow and rhythm by making too many changes.

When you look at the sides Arsenal have to face following Hull, it's easy to see why Wenger would be tempted to rest some legs at the Emirates. Everton (H), Napoli (A) and Man City (A) in a six-day period, before Chelsea come to visit a couple of days before Christmas.

Even with the Gunners' current form and momentum, that is an extremely testing run of games. Hull, despite their win over Liverpool, won't be as tough, and over the course of a season a manager has to trust in the depth of his squad. It's simply not possible to play the same players week in, week out -- or, indeed, four times in 10 days -- and expect them to maintain the same level of performance.

In midfield Arsenal have plenty of options. Two fine holding players in Mikel Arteta and Mathieu Flamini' more attacking options in Santi Cazorla, Tomas Rosicky and Mesut Ozil; and the versatile qualities of Aaron Ramsey and Jack Wilshere mean the Arsenal engine room is one that should continue to fire.

Walcott has made two brief cameos since his return from injury and the Hull game might well be the perfect match in which to give him a start. The question is, does he play from the right-hand side, or will Wenger deploy him as the main striker, allowing the hard-working Olivier Giroud to recharge his batteries?

There's the youthful zest of Serge Gnabry to consider also, but with the news that Bacary Sagna will miss the game because of a hamstring strain, the Arsenal boss might consider a Carl Jenkinson/Gnabry right-hand side just a bit too callow.

Still, he's got plenty to think about ahead of a game that any title contender should hope to win. They won't take Hull for granted, by any means, but this is the kind of game Arsenal have to take three points from ahead of what's to come.

The good news is that when we look at the squad and the kind of player Wenger can bring in to change things around, there isn't the lack of quality there has been in previous seasons. The bench is strong, Podolski's return next week will make it more so, and the players that might come in aren't just there to make up the numbers. They'll want to prove a point to the manager too.

The likes of Nacho Monreal and Thomas Vermaelen want to play in a World Cup year. They know there's no margin for error. If called upon they have to play well, and that competition for key positions benefits the men in possession too. If they slip up they know there's a good player waiting to take their place.

Wenger will have to use his squad well over the next few weeks, but all the signs suggest they're up to the task.