Ramsey gets goals, but Szczesny huge in win
Arsenal extended their lead at the top of the Premier League to seven points with a 3-0 win over Cardiff on Saturday, and once more Aaron Ramsey will make headlines.

On his return to his former club he scored two fantastic goals and was a constant threat. His contribution to the Gunners' season is unquestionable. Yet part of what has driven Arsenal to the top this campaign is the quality of their goalkeeper, Wojciech Szczesny.

In recent times Arsenal have often bemoaned the points lost to them by keepers who were always capable of blundering. This time around they can thank the big Polish international for keeping the Gunners ahead in games that could have seen them drop valuable points.

- Ramsey returns to haunt Cardiff

He's made big saves at crucial times, and while most of the postgame analysis will focus on Arsenal's goals, his save from Frazier Campbell on 51 minutes shouldn't be overlooked. With just a one-goal lead it doesn't take much for the momentum of a game to swing, and when a Cardiff cross from the right-hand side was deflected high into the air, Campbell leapt higher than Kieran Gibbs.

The striker did everything right -- the textbook tells you to head it downwards, making it more difficult for the keeper -- but Szczesny not only got down to it, he pushed it away from goal with a big hand. In a season in which he's made a lot of good saves, this is right up there with the best of them, and he's now a vital part of what makes the Gunners so hard to break down.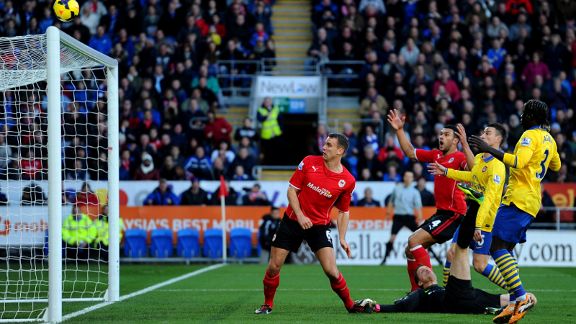 GettyImagesArsenal goalkeeper Wojciech Szczesny thwarts a Cardiff chance.
That makes it five clean sheets in his last six games, and the only goal Arsenal have conceded in November was the one at Old Trafford. It speaks to a defensive solidity that certainly isn't a trademark of Arsene Wenger's recent teams, but will be very welcome all the same.

It was also another game in which Arsenal, despite the scoreline, didn't properly click as an attacking force. It seems strange to say it considering the win, but Olivier Giroud looked as if the fixtures might be catching up with him, while Santi Cazorla is trying hard to find some form but struggling to contribute the way he did last season.

Mesut Ozil provided two assists -- a whipped cross for Ramsey's first (a much more difficult header than the Welshman made it look), and then a perfectly weighted ball for Mathieu Flamini to smash home from close range -- but there was still the sense he's playing within himself a bit.

That they can win games with performances that aren't quite as good as we know they can produce continues to be massively encouraging. Winning is a habit, and Arsenal have really got some momentum going after the international break.

There was also an assist for Theo Walcott as he provided Ramsey with his second, and Wenger will need to start using his squad well over the next few weeks.

It wouldn't be a surprise to see more than a few changes when Hull City come to visit in midweek, but for now they can sit back knowing their work for this weekend is done, and hope that their rivals come unstuck on Sunday.