It's time to stop questioning Arsenal's depth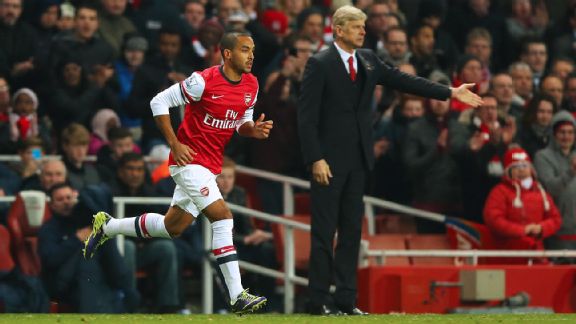 Clive Rose/Getty ImagesNow that Arsene Wenger can send Theo Walcott back out on the pitch, Arsenal have yet another dimension in attack.
What a fantastic position to be in.

Arsenal are four points clear at the top of the Premier League, a win at Cardiff on Saturday could put them seven ahead of the rest, and they have a wealth of riches to choose from.

Arsene Wenger is smiling and deserves to be. If they win at Cardiff, their lead may be extended for only 24 hours with the likes of Liverpool, Manchester United and Manchester City all playing on Sunday.

-Cardiff's Mackay hails Ramsey

But the luxury is that it puts the pressure on the rest. It is surely better to lead than to chase, and it is a nice and yet unfamiliar position for Arsenal to be in. They are notoriously poor starters, coming good in the second half of the season (for the past few seasons, anyway). It has almost become an annual chase for a top-four place, coming from a position of midtable after a wobbly start.

So don't listen to those who fret about Arsenal's being in danger of blowing up, losing their way, and not being able to keep the pace after Christmas. That has been the last of their problems in recent seasons. In fact, they actually get stronger.

But the really good thing for Arsenal now is the way their injured players are coming back.

First up is Theo Walcott. His absence has been huge for Arsenal. Walcott's pace gives them variation; they can set up and play a different way. They can pin back worried full-backs at home and hit opponents on the counterattack away from home.

No one likes to play against pace, and Walcott has pace to burn. Also, Walcott can play as an emergency striker, rather like Lukas Podolski.

Podolski, who has largely played wide left since coming in 18 months ago, arrived at Arsenal hoping to play through the middle. Still, about a fortnight away from being match fit, the German forward may get his chance as a backup, cover or competition for Olivier Giroud, given Arsenal are weak in that department.

Arsenal's midfield also has options; with Walcott coming back, it means perhaps that Santi Cazorla can play left and Walcott right, leaving plenty of competition in the middle. Mikel Arteta and Mathieu Flamini would be my favoured pair in a 4-2-3-1 setup. They provide a solid backbone in protection of the back four and are a perfect midfield base and anchor.

But who then to choose from for the remaining other position? Aaron Ramsey has been the form player of the league; he has scored 11 goals and has been undroppable this season. Jack Wilshere is coming back to full fitness, and then there's Mesut Ozil, the 42-million-pound record signing.

Suddenly it makes you realise that Arsenal do have some deficiencies in their squad. In defence, do they have enough cover? Well, they have four international full-backs, and Thomas Vermaelen (the Belgian international who is Arsenal's captain) is first reserve to Laurent Koscielny and Per Mertesacker.

Wojciech Szczesny is enjoying a terrific season and is in great form. But if he gets injured, Arsenal have two full internationals (Lukasz Fabianski and Emiliano Viviano) as backups.

Arsenal could do with a backup for Giroud, different alternatives or another No. 9 style striker. After all, that's why they spent all summer chasing Luis Suarez.

But -- myself included -- it's time to stop questioning the depth of Arsenal's squad. They have plenty, and now their only real cause for concern is up front. But now, with Walcott and Podolski coming back, it means Giroud may get a breather sometime soon.