Arsenal aware of Marseille danger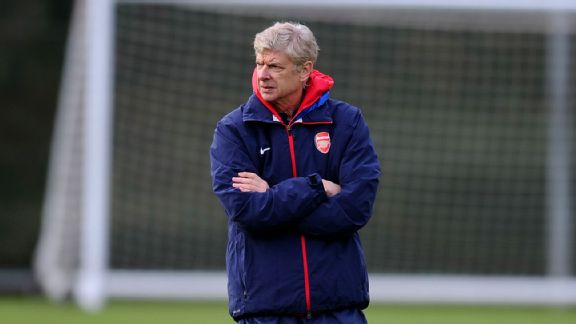 Stuart MacFarlane/Getty ImagesArsene Wenger hopes his Arsenal side stay atop Group F with a win versus Marseille.
Given their form this season and the fact that Marseille have yet to win a single point in this season's Champions League, Arsenal have every right to feel confident ahead of their clash at the Emirates on Tuesday night.

- Cross: Arsenal out to send message
- Palmer: Matchday Five: Key talking points
- Cox: Make or break for Walcott?

However, unlike previous seasons when an almost always unwarranted, and often costly, streak of hubris was a factor in the Gunners' approach to certain games, there's no chance their preparation for this will be anything short of 100 percent professional.

Arsene Wenger sounded a warning at his pregame news conference Monday, saying of the Ligue 1 visitors, "They have nothing to lose, that makes them dangerous." Santi Cazorla, the gifted Spaniard, also urged his teammates to be switched on.

"They are going to make things difficult for us," he said. "It may be tough and if we're not careful we might slip and then we might not be able to get through to the next round.

"We need to understand that it's a vital match. If we get the right result we can automatically go to the next round. If we obtained a bad result, then it would make things very complicated for us to go to Napoli and win there."

And so tight are the margins in this group that even victory won't assure the Gunners of qualification. If they win, and Napoli beat Dortmund, then their meeting in Naples will be a decider for first and second. But if the Germans beat Rafa Benitez's side, the final round of fixtures will finalise the knock-out stages lineup and Arsenal will need to get something from their trip to Italy.

In terms of his team, Wenger might well be tempted to err on the side of caution. Although Theo Walcott is back and gives them a weapon they've lacked for some time (blinding pace), the availability of Mathieu Flamini after his weekend suspension might be the change that he makes.

Although some have suggested the Frenchman and fellow deep-lying midfielder Mikel Arteta provide Wenger with something of an "either/or" choice, the pair do work well together. In fact, they both started and completed 90 minutes in Arsenal's best performance of the season, a 2-0 win over Napoli last month.

A scintillating first-half display was followed by an incredibly assured second half in which they kept the Italian side at arm's length, snuffing out any and all danger and restricting the Serie A side to hopeful pot-shots which never bothered Wojciech Szczesny. The home team's goals came from Olivier Giroud and Mesut Ozil, and that first 45 minutes was the most fluid attacking performance of this campaign thus far.

But the nice thing for the Arsenal manager is that he's got so many choices. Recalling Flamini would probably mean dropping Jack Wilshere. There's also Walcott's role to consider; the experience and know-how of Tomas Rosicky to count on; youthful verve with Serge Gnabry; and, of course, the outrageous talent of Nicklas Bendtner, should all else fail.

It's hard to look beyond an Arsenal victory, especially after Marseille lost the dangerous Andre Ayew to a knee injury, but neither Wenger, nor his players, are taking anything for granted.