Walcott return warmly welcomed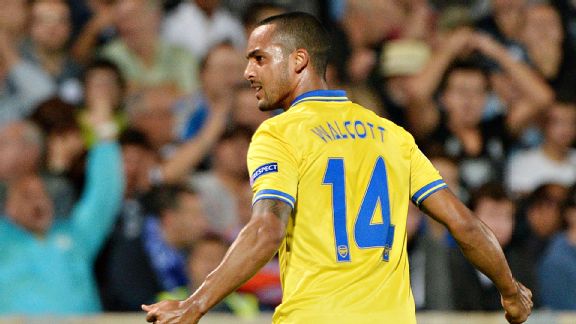 Anne-Christine Poujoulat/AFP/Getty ImagesTheo Walcott's blistering pace should provide a boost to the Arsenal attack.
The return of Theo Walcott is a massive boost, not just for Arsenal but for England.

Walcott was in fantastic form before he got injured in mid-September. Two months later, Walcott is fit to return to the squad to face Southampton, his former club.

- Report: Walcott primed to face Saints

The point that people miss about Walcott is that his pace and threat are equally effective both at the Emirates and also away from home.

At home, it often means that full-backs and defenders tend to drop deeper to be on red alert against the threat of Walcott's pace. Therefore, he can stretch teams even when he's not on the ball. Away from home, Walcott provides searing pace and acceleration to catch opponents on the break with lightning-quick counterattacks. Even when Walcott is not scoring, providing assists or trying to beat full-backs, he is still a threat because opposing defences are so wary of him.

Arsene Wenger has acknowledged that Walcott is just 24, still has time to improve, and also provides a valuable backup option as cover for Olivier Giroud. Poor old Giroud is Arsenal's only fit and reliable centre-forward. Well, can you rely on Nicklas Bendtner? Of course not.

And up to this point, you cannot rely on Yaya Sanogo's fitness, and if the worst was to happen to Giroud, then Lukas Podolski is also out injured. So Walcott is Arsenal's backup option through the middle, but despite Wenger being overloaded with midfield options, I still believe he should be a starter on the right wing rather than as a forward.

Arsenal have a wealth of talent in midfield. Aaron Ramsey is on fire this season as a goal scorer. Mesut Ozil is the 42 million pound midfield supply line, the most prolific assister in Europe. Jack Wilshere is England's bright young hope, Mathieu Flamini is the engine room, Mikel Arteta is Mr. Reliable and Santi Cazorla the creator on the left.

The problem is that they are all vying for three central positions, with perhaps Cazorla providing the one different option on the left. Arsenal have limited options on the flanks, the right and left of attack. Serge Gnabry is progressing, Podolski has played on the left, yet Walcott is still the main man on the right.

Walcott also has matured enough in the past couple of seasons with Arsenal to establish himself with England under Roy Hodgson. Up until relatively recently, Hodgson was reluctant to go with out-and-out wingers. But Walcott's form has changed his outlook. Before being ruled out in September -- he needed surgery on a stomach problem -- he was a certainty on the England team. It was his absence that opened the door for Andros Townsend.

But Walcott is back -- and eager to prove he is worth his place in the starting lineup for Arsenal and England. Once he starts playing again, he will show exactly that.