Handle Wilshere with care ahead of Brazil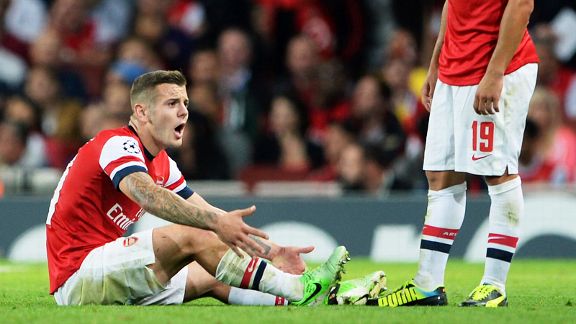 Michael Regan/Getty ImagesJack Wilshere's nagging ankle problems are hampering his development as he and England prepare for next year's World Cup.
Roy Hodgson needs Jack Wilshere.

The England manager not only needs Wilshere at next summer's World Cup, but also wants the Arsenal midfielder to be fit and confident.

And there's no getting away from it -- Wilshere does not look either of those things at the moment, either for club or country.

-Hodgson's high hopes for Wilshere
-Wilshere targeting Gunners' captaincy
-Walcott, Ramsey set to return

Wilshere gives England and Arsenal a touch of fantasy, something different, out of the ordinary, flair and imagination.

When Wilshere is at his best, he is a superb passer. He is clever on the ball, can spot a pass and unlock defences.

Wilshere is a continental-style player playing within a very English setup. He doesn't fit into the 4-4-2; he is crucial to England's long-term future and short-term hopes next summer, too.

Anyone who suggests differently clearly hasn't seen enough of him or isn't familiar with the English team.

Wilshere is a glimpse of the future, the next generation after Steven Gerrard and Frank Lampard, and is the midfield kingpin for the next England team.

That's why, at the moment, frustrations are creeping in. Wilshere isn't playing at his peak, doesn't look sharp enough, and needs more games to achieve that. But the problem is that his ankle injury, which kept him out 17 months, is still flaring up and causing him problems after games.

Basically, he is still getting over the injury in terms of physical shape and confidence. As with Aaron Ramsey, it takes time to get over a career-threatening injury.

The problem at the moment for Wilshere, Arsenal and England is how best to treat him. He needs to be playing to achieve his dream of going to the World Cup, yet he also needs some rest.

Overplaying him, as Arsenal did before his injury, only makes it worse, but he needs to find his feet again. It's a Catch-22.

But Wilshere has character, strength and mentality in abundance. He is not a weak player and will come back from this.

However, what we're seeing right now is not Wilshere at his best. It's as if he's playing within himself, not quite showing the burst of speed or power that he possesses, not quite getting past players or influencing games as he can at his peak.

At times in his last two games for England, he looked to be labouring, whereas in the past he has glided past players. But it can come back.

It must be so demoralising for him. It was for Ramsey. It's almost confidence-sapping, but the trick is to keep believing.

The talent and strength are still there. He will come back better, stronger and fitter than ever. I'm convinced of that. And England need him next summer. Only time will tell whether there are enough games, weeks and months for Wilshere to get there.

But Wilshere believes there is -- and he can do it.