Arsenal hoping for miracle for French contingent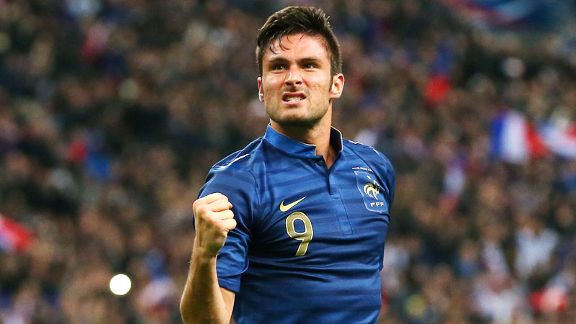 Julian Finney/Getty ImagesThe lure of the World Cup would help keep Oliver Giroud motivated.
Arsenal's French contingent are only hours away from deciding their World Cup destiny.

The prognosis is not good. After the first leg in Ukraine, Didier Deschamps' side trail by two goals to nil. A remarkable rally will be required to overturn the deficit.

Arsene Wenger will be hoping that the French team prevail -- and not just because of a patriotic bias towards his countrymen.

Despite the recent acquisition of several German internationals, there is still a strong Gallic presence in the Arsenal team. The Gunners have three players in the current France squad, and several more who could be in contention come the end of the season.

- Mangan: The fountain of youth

Bacary Sagna and Laurent Koscielny are both part of Deschamps' defensive contingent, while Olivier Giroud has ousted Karim Benzema to become the main striker for Les Bleus.

Sagna did not play in Ukraine, but Giroud and Koscielny both started the game. The latter was painted as the villain of the piece after conceding a penalty and being sent off. He will now miss the second leg through suspension.

Giroud, however, will still be available to lend his considerable strength to the French cause. With France needing at least two goals to reach Brazil, he may even be reunited with the out-of-sorts Benzema in a menacing front two. Whatever system he is asked to play within, Giroud is determined to give his all. He told The Guardian: "We are ready to die on the pitch. I have a lot of determination and I think it will help us get into them."

Arsenal supporters who've witnessed Giroud's Herculean exertions for the club this season will not doubt his desire.

If France fail to make it to the World Cup, it will be a huge blow to the forward. He is enjoying the season of his life, and has finally established himself at international level. This is his time. When the next World Cup comes around, he will be almost 32 years old and potentially past his peak.

Should France fail to make it, the players' disappointment could have consequences for the Gunners. Arsenal have been stung by their players' international failures in the past. In 2010, Andrey Arshavin led Russia into a World Cup playoff against Slovenia. Russia conspired to lose on away goals, and Arshavin was distraught. In the wake of the defeat he reportedly told Arsene Wenger, "I simply don't want to play football."

Some would argue that he stuck to that promise. Arshavin was a spent force, and never produced anything approaching his best form at Arsenal again.

By contrast, reaching the World Cup would provide a huge incentive for Arsenal's francophone fraternity. The prize of a place on the plane to Brazil would surely coax the best out of Wenger's French charges.

Aside from the aforementioned trio, who are already in Deschamps' plans, Mathieu Flamini must hold realistic aspirations of adding to his three existing international caps. Flamini has not played for France since 2008, but his outstanding form this season surely puts him in contention for a call-up. Having resurrected his Arsenal career, he could yet do the same with his international status.

Another Arsenal midfielder will have designs on an international recall: Abou Diaby. Although Diaby is currently sidelined for the long term with a knee problem, Deschamps is a confirmed admirer of the languid midfielder. He even contacted Diaby in October to wish him a speedy recovery:

"I sent him a message of good cheer; he got it. This is not the first time he suffered a pretty serious injury. Today, he is not active. But I want him to recover more quickly."

If Diaby is able to prove his fitness before the end of the season, he could yet force his way back in to the France setup.

That undertaking would be considerably more rewarding if the carrot of a place at the World Cup were dangling ahead of him. If anyone deserves the reward of World Cup participation, it's the ill-starred Diaby.

For now, all he can he do is watch and wait. France's destiny lies with Deschamps, Giroud and the rest of the current squad.

The World Cup is in the balance, and the result will surely have an impact on Arsenal's season -- one way or the other.