Maturing youth making the difference for Arsenal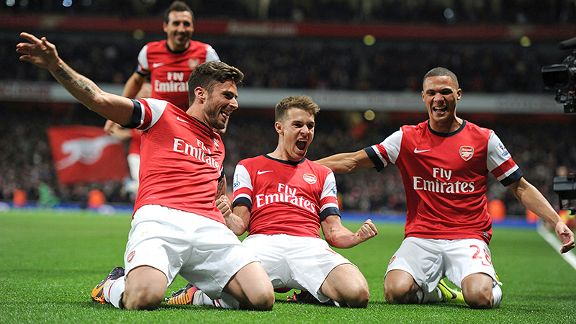 AllsportNo one expected the Gunners -- led by Aaron Ramsey, center, and Kieran Gibbs, right -- to be this strong. Yet they're leading the Prem.
Santi Cazorla was recently asked what the difference was between Arsenal this season and last.

"We have matured, I think," was his answer -- unusual, perhaps, for a player his age (28) to talk about maturity. "We had to be more consistent and we are, this is a defect that we have corrected. We are committing fewer errors. Last year, by forgetfulness or lack of concentration, we foolishly lost games and we've learned from that."

But on a very basic level where Arsenal have matured, and noticeably so, is in the contribution from the younger players.

-Szczesny signs long-term deal

They've been without the experience of Lukas Podolski nearly all season; Cazorla himself missed a six-week chunk and is still making his way back to full fitness; and even though Mesut Ozil has done well since his arrival, there's the feeling that we haven't seen the best of him yet in an Arsenal shirt shirt.

However, Kieran Gibbs is developing into a consistent, top-level full-back when it seemed injuries might blight his career. If he keeps up his improvement, the World Cup isn't impossible, despite the fact that Leighton Baines and Ashley Cole are ahead of him now.

In Aaron Ramsey, they have a player finally fulfilling his potential after difficult years. The injury setback of 2010 threw his career off course and his struggle for form might well have scuppered lesser characters, but in the last 12 months he has been an outstanding contributor to the Premier League's best record in the calendar year.

Back in 2008, Arsene Wenger said of Ramsey: "I believe he has something special. He has the work rate, he has the spirit and he has good vision. He has all the physical and tactical ingredients to become a great midfielder. He still needs to develop his technique but he has what is needed to become a top-level player."

Even a year ago that would have sounded fanciful, but this season he's taken a mighty step forward and it's had a big impact on how well the Gunners have performed.

Then you look at Wojciech Szczesny, another player with massive potential who got a bit sidetracked. Not quite a case of too much too soon, but he got comfortable and his performances suffered. He was never as disastrous as some who have kept goal in recent years, but Wenger knew he was capable of better.

He dropped him, unceremoniously too, and is now seeing a much more focused and mature player save vital points for his team. Szczesny has rightly been rewarded with a new contract, but his development between last season and this is part of why Arsenal are sitting at the top of the Premier League heading into Saturday's match against Southampton.

Added to all this is a fine balance between youth and experience, something that has been not quite right in the past. The younger players have a wealth of knowledge to draw from rather than trying to work things out for themselves, or looking to men with a dearth of leadership qualities.

How can someone like Serge Gnabry, for example, not benefit hugely from training every day and playing with the likes of Cazorla, Ozil, Podolski and so on? Gibbs competing with Nacho Monreal ensures his development continues apace. Szczesny knows that he's got two experienced goalkeepers who want his place, so his standards must stay high.

It's still early days for this season, and there are genuine reasons to doubt Arsenal's title credentials. But the way Wenger has assembled a squad as balanced as it is gives them their best chance in years.