Szczesny on his way to the top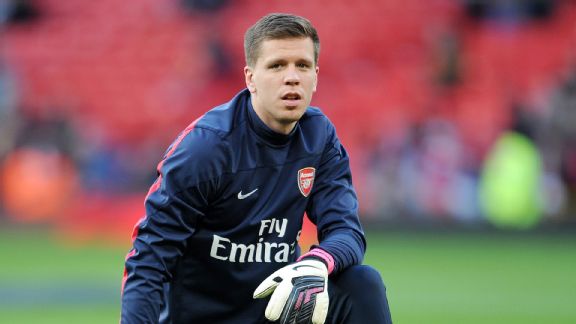 David Price/Getty ImagesWojciech Szczesny has made 121 appearances for Arsenal since joining the club in 2006.
There is nothing like football for dividing opinion.

So, if one fan says something is white, then it must be black. Rather like debating as to who is the best striker, keeper, defender, winger and so on. And nine times out of ten, any fan will favour their own team, dismiss any other view and claim their rival's player is rubbish. You have to forgive and accept fans, players and managers alike for being hopelessly biased in favour of their own team or teammates.

Therefore, it was no surprise that when Arsenal announced that Wojciech Szczesny had signed a new long term contract, it brought out very differing views.

- Report: Szczesny commits future to Arsenal
- McNicholas: Best of Ozil yet to come

Jack Wilshere probably started it by declaring on Twitter that Szczesny is the best keeper in the Premier League. Szczesny had even waded in himself last week by saying Joe Hart is so good it's "scary" and that Simon Mignolet was the best keeper last season.

The Arsenal keeper, in my view, deserves a lot of credit, on behalf of the goalkeepers' union, for speaking up on behalf of England No.1 Hart -- really good to see one keeper support another.

The very notion that Szczesny may be viewed as the best might have seemed a bit far-fetched when he was dropped last March. Some keepers would have sulked, asked for a move and then got the hump as their club tried to sign a replacement.

But what is really impressive about Szczesny, a loud and terrific character in the dressing room, is that he knuckled down, refocused and won back his place. That takes real determination and his performances this season, having tied down that No.1 shirt again and persuaded Arsene Wenger he doesn't need to buy, have been impressive and consistent.

What is also really eye-catching is that Szczesny is just 23. He's got a whole decade and more in front of him at Arsenal. And the positive thing is that he can only get better. Keepers generally do.

There is a young generation of keepers in the Premier League: Szczesny, Mignolet, Hart, Tim Krul and David De Gea to name but five.

For me, Petr Cech has ruled the roost for a long time in the Premier League. But now the next generation are catching up and some -- Wilshere for one -- say have surpassed Cech. Cech's trophy cabinet takes some beating, plus his experience. But this new, young generation look really good.

Szczesny has gone from strength to strength this season. He looks commanding again, is making spectacular saves, making simple stops and is clearly re-energised.

We may not all agree, but Szczesny -- if he is not there already -- is on his way to the top.