The best of Mesut Ozil is yet to come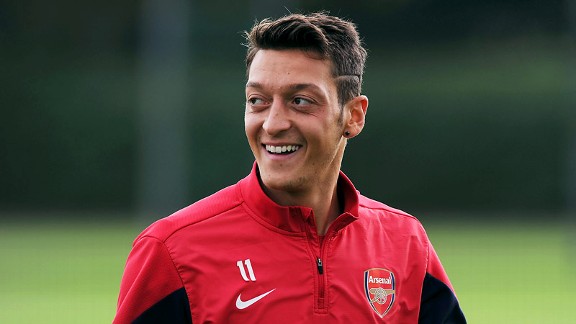 Stuart MacFarlane/Arsenal FC/Getty ImagesMesut Ozil has helped Arsenal reach the top of the Premier League table.
Premier League defences should be concerned: Believe it or not, Mesut Ozil is going to get better.

An improved Ozil will enhance Arsenal, too. The Gunners have undoubtedly had a great start to the season, surpassing the expectations of fans and pundits alike. Few predicted they would lead the Premier League at this stage, let alone that they would have morale-boosting victories against the likes of Tottenham, Liverpool and Borussia Dortmund under their belt.

- Mangan: The Bould and the beautiful
- Cross: All English eyes on Wilshere

However, impressive though Arsenal's opening has been, it's not been perfect. Arguably the most exciting aspect of Arsenal's bright start is that, despite being top, there is still visible room for improvement.

Several individuals in the team are not performing at their optimum level. In recent fixtures, two of Arsenal's most gifted players, Santi Cazorla and Mesut Ozil, have fallen slightly short of their usually immaculate standards. The team is functioning well, but there is surely more to come from Arsenal's maverick playmakers.

Ozil did enjoy a spectacular start to his Arsenal career, picking up four assists in his first two games. Arsenal fans arguably saw Ozil at the peak of his powers in October's home victory over Napoli. After that match, Arsene Wenger said:

"He had an outstanding first half, where you had everything that you want to see from a great player. Individual skill, team play, finishing, final ball. You just had to sit there and enjoy it."

However, since the Napoli game, the German's star has not shone quite so brightly. Ozil has been unable to replicate that kind of virtuoso display on a regular basis.

There have still been occasional moments of outstanding skill. Ozil's dribble down the right and clipped pass to find Aaron Ramsey against Liverpool granted the Welshman the space to thump home the crucial second goal. In Dortmund, he found the room to loft in a cross toward the back post that ultimately led to another vital Ramsey winner.

Such flashes of genius are customary with Ozil. However, those magical moments can't disguise a slight downturn in his overall performance.

In the recent defeat at Old Trafford, he was all but anonymous, completing just 79.6 percent of his passes. That figure falls well short of his Premier League average of 86.3 percent.

He remains one of the first names on the Arsenal team sheet: A below-par Ozil is still more effective than most players in the Premier League. However, against Napoli, Ozil demonstrated a capacity to carve a game in his own image. We haven't seen that kind of defining performance since.

There's no doubt that he is capable. Ozil has the talent to dominate the Premier League -- perhaps he just needs a little more time.

It's important to remember that Ozil is still undergoing a period of adaptation. He's at a new club in a new country. A huge price tag doesn't guarantee that you'll take to the Premier League like the proverbial duck to water. Some of Arsenal's greatest players, such as Robert Pires, needed six months to fully bed into the team.

The Premier League is a significantly more physical league than La Liga, where Ozil spent the preceding three seasons. The sight of the German looking up at English referees in disbelief having being denied a free-kick is becoming increasingly familiar to Arsenal fans.

Ozil is receiving more focus from opposition defenders than he's accustomed to. In Madrid, the attention of defenders was diluted by the multiple menace of Angel di Maria, Cristiano Ronaldo and Karim Benzema. At Arsenal, Ozil is the principal threat and subsequently has become a marked man.

He's also being asked to play more minutes than ever before. At Real Madrid, Jose Mourinho would frequently withdraw a fading Ozil after 70 minutes in order to grant him a breather. At Arsenal, Ozil's status is higher: Wenger tends to rely on him for the entire 90 minutes. Ozil plainly enjoys the responsibility, but is still building up his stamina to the requisite levels.

The speed of the game requires some acclimatisation. After the recent match with Liverpool, a dizzied Ozil tweeted that the fixture was "Formula One" football. Given Ozil's contribution thus far, it's tantalising to imagine what he might be capable of once he gets up to speed.

Speaking of speed, Ozil will also surely benefit from the return of Theo Walcott, whose pace and mobility make him an ideal foil for Ozil's percipient passing.

Ozil's gradual adaption will see him ascend new heights. His broader impact on the team and the club is not in question. However, he left Madrid for an environment where he would be the kingpin. His star should be ready to explode.

None of this is intended as a criticism of Ozil. It's a challenge, and one he is more than capable of meeting.

Arsenal can expect more from Ozil in the coming months. Given the brilliance he has already demonstrated, that is a mouthwatering prospect.