England's future to have an Arsenal flavour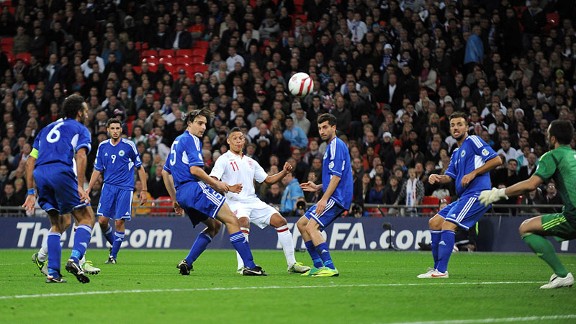 PA PhotosAlex Oxlade-Chamberlain has become an England regular
It wasn't too long ago that Arsenal were regularly criticised for not having enough English players. As the famous back four and players like Ray Parlour headed for retirement, and Ashley Cole found the unswerving lure of Chelsea's money too difficult to resist, Arsenal's foreign legion grew.

Much vaunted youth prospects such as Jay Emmanuel-Thomas, Henri Lansbury, Kyle Bartley and Jay Simpson failed to make the grade, while even those like Justin Hoyte, who made the breakthrough to the first team, did little to convince and were moved on. Arsene Wenger's fingers were burned in the transfer market too, a whopping £8.5m spent on Francis Jeffers was hardly value for money while a large outlay on goalkeeper Richard Wright proved similarly unsuccessful.

The manager's purchases were, for the most part, players from abroad and it's easy to see why. The 'English tax' precluded Arsenal from bidding for the best home-grown talent. A quirk of nationality and birth place adds millions to the transfer fees of players whose talent doesn't reflect the price, and better value can be gleaned elsewhere. Darren Bent cost Aston Villa £24m, James Milner and Joleon Lescott took an estimated £50m from Man City's deep coffers, while nobody needs to be reminded that Liverpool spent £75m on Henderson, Carroll and Downing. It would be a foolish man who tried to operate in a market so badly skewed by a player's passport.

Yet it's not inconceivable that Arsenal could provide five players to the England team, and five players who could make up the backbone of that side for years to come. Carl Jenkinson's future was in the air, with his Finnish connection, but he's plumped for the country of his birth. It's a big if, especially in a footballing world where players are flavour of the minute more than the month, but if he continues to develop and progress he could well be part of England's next squad when they meet again in 2013.

At left back, Kieran Gibbs missed this week's games with injury but Ashley Cole isn't getting any younger and his career is entering its final years anyway. Gibbs will face a battle with Leighton Baines but after a solid start to this season he's repaying the faith that Arsene Wenger has shown in him and defensively his game has improved a lot.

Alex Oxlade-Chamberlain is now established as a regular under Hodgson and the manager's faith in his talent was obvious during Euro 2012 as he started games ahead of his more experienced Arsenal colleague Theo Walcott. And with the return of Jack Wilshere imminent, a player regarded by many as the most naturally talented English midfielder since Paul Scholes, it won't be long before he's turning out again for the national team. There will be some concerns about his fitness but assuming all goes well he'll be a mainstay for his country, no question about it.

The only doubt lies with Theo Walcott. He's certainly going to feature but whether or not it's as an Arsenal player remains to be seen. His contract situation is such that it would be a surprise if club and player reached agreement. His availability on a Bosman will open doors that would have remained closed if a fee were necessary, but maybe he'll come to his senses and realise that he's got it good at Arsenal, even if the basic wage on offer is, at this stage, deemed unacceptable.

Whatever happens with Walcott though, it's safe to say that there will be an Arsenal flavour to the England team for years to come. Whether the press acknowledge that as quickly as they did the lack of English players is another thing.