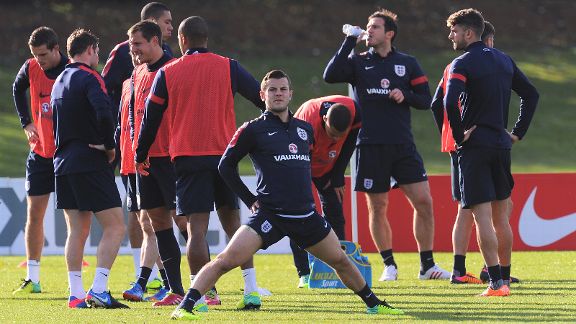 GettyImagesArsenal's Jack Wilshere is currently on England duty.
Jack Wilshere made good sense, as ever, when he spoke this week. Quite apart from suggesting some critics are too harsh on his performances, the midfielder also claimed that people forget just how young he is.

"I do think [people forget my age]," said Wilshere. "Not just because I've been around for a long time, but people hear I've got two kids and it's not often you hear about a 21-year-old with two kids.

"I have been in the [Arsenal] first team since I was 16, so that is five years and quite a long time in football terms."

Wilshere is right. We do forget that he is still young. That's partly because he has been around for a lengthy period already.

- WhoScored: Wilshere as a deep-lying midfielder

But I tend to think it's more about the level of pressure and expectation on his shoulders. Our expectations are so high that it would be difficult for anyone to measure up, let alone a player just coming back from a career-threatening injury.

Wilshere should actually take it as a compliment. The reason he is scrutinised more than most -- and perhaps this is the reason foreign pundits cannot understand the hype -- is because he is our big hope. It really is that simple.

As the so-called Golden Generation comes to an end -- 2014 will be the last World Cup for Steven Gerrard and Frank Lampard -- Wilshere is the future.

He is combative, creative and passionate about playing for England. If you ever speak to him, you quickly learn that he is incredibly proud to play for his country. While other players get overwhelmed by their club careers, Wilshere is very patriotic. It means everything to him.

And in turn, that is why we see Wilshere as such an important part of England's future. That's why every cough, spit and splutter that Wilshere makes will be reported in great detail, along with any injury fears.

The World Cup is almost here. England needs Wilshere. In fact, England expects much from Wilshere. It's big pressure, and anything less than a big World Cup campaign from Wilshere will be seen as something of a disappointment. Imagine that?

Wilshere is still clearly being troubled to a degree by the ankle injury that kept him out for 17 months. It needs "managing" because it can take longer to settle down after games. Arsene Wenger insists this is a phase and won't be the case for the rest of his career.

Wenger wants Wilshere to play only one of England's upcoming friendlies with Chile and Germany. That surely makes common sense as Wilshere returns to full fitness and match sharpness.

We've seen Aaron Ramsey take time to come back from serious injury. He's come back fitter and stronger. Wilshere can do the same. And as he does, he can expect the eyes of a nation to be on him, full of hope and expectation.