Arsenal need Podolski and Walcott back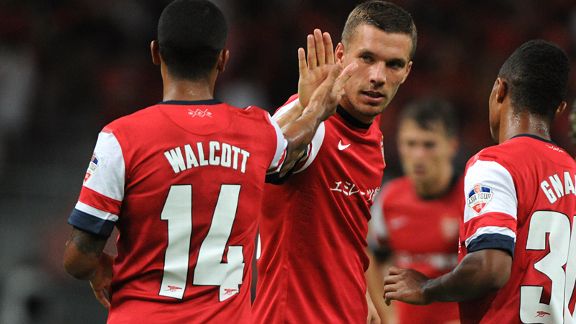 GettyImagesLukas Podolski and Theo Walcott have been a big miss for the Gunners.
Despite being able to put out a decent first XI on Sunday against Manchester United, Arsenal's chances of getting back into the game, having gone behind to Robin van Persie's goal, were restricted because of lack of options from the bench.

From an attacking point of view they had Serge Gnabry, stricken with the same illness that kept Per Mertesacker and Tomas Rosicky out of the game, and Nicklas Bendtner. The Dane is only at the club because a deadline-day move for Demba Ba fell through, and only in the team because of a spate of injuries. While it's easy to understand his frustration at being called back at the last minute, perhaps if he'd taken one of the many options open to him throughout the summer it wouldn't be an issue for either party.

On a day when Mesut Ozil struggled, also because of illness, Santi Cazorla found himself on the fringes and Olivier Giroud looked like a man who has played himself to the point of exhaustion throughout the season, how Arsene Wenger must have yearned for Lukas Podolski and Theo Walcott.

- Cross: Strengths and weaknesses exposed
- Tired Olivier Giroud losing momentum

Although both are potential backup for Giroud in the centre-forward position, they're better coming from a wider position and very effective there too. Last season Walcott got his highest-ever goal tally, scoring 21 in all competitions and providing 14 assists in the process. His pace also provides a weapon that Wenger's side don't have right now.

Podolski spent a lot of time out injured, was in and out of the starting XI, and still his stats were impressive with 17 goals and 11 assists. He had started this season brightly, scoring twice against Fulham before ripping his hamstring to bits against Fenerbahce.

Between them they scored 38 and made 25 goals for the Gunners last season, and it's easy to see how doing without both of them for such a long time has begun to have an impact on the team.

There's the fatigue factor, with Wenger having to play the same players week in, week out, but it boils down to basics -- two of their most effective front three players from last season have been missing for most of this campaign. The slack has been taken up by Aaron Ramsey, for the most part, and his goals from midfield have made the absences less costly, but when you're facing the champions away from home and your only real option from the bench is a striker you don't really want, who himself doesn't want be at the club, then it makes saving a game all the more difficult.

Giroud himself is beginning to look a little leggy. His application and work rate are fantastic and there can be no complaints about what he brings to the team, but both Podolski and Walcott are capable of excellent delivery from both sides of the pitch, something Giroud has been somewhat starved of in recent games. He seemed to click particularly well with the German, and the near post ball from the left was something of a trademark at times.

More than anything, though, Arsenal need fresh legs and decent options from the bench. When the guys on the pitch can't do it, they need help, and right now the players they have in reserve aren't enough to make the required impact when necessary.

Hopefully, before Arsenal face Southampton, there'll be good news from the medical staff, because the sooner we see Podolski and Walcott (not forgetting Alex Oxlade-Chamberlain) back in red and white, the stronger Arsenal will be for it.