Mertesacker standing tall at the heart of Arsenal's defence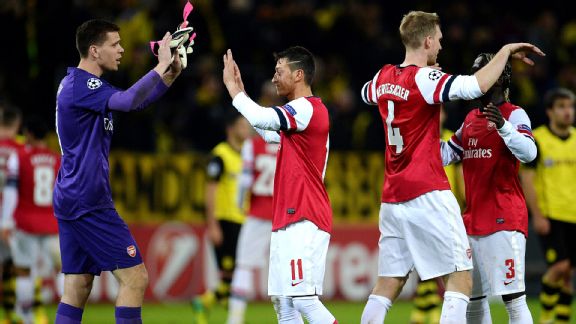 Patrik Stollarz/AFP/Getty ImagesPer Mertesacker, second from right, towers above his Arsenal teammates in stature, and has been a key figure in the Gunners' success this season.
Not many people would dare criticise Per Mertesacker to his face.

The German international stands 6-foot-6, towering over even the tallest opposition. He is an intimidating sight, if a gentle soul.

Nevertheless, since his arrival at Arsenal in August 2011, many pundits have taken potshots at Mertesacker from the safe distance of a TV studio. Mertesacker was signed to shore up an Arsenal defence that had just conceded eight goals to Manchester United. But he initially struggled to settle amid the chaos.

-Dortmund's Klopp believes Arsenal can win UCL
-Wenger: Arsenal must remain focused

In November 2011, Arsene Wenger was forced to publicly defend his beanstalk buy:

"I feel people have been harsh in their judgement. I like Per very much, because he is a very intelligent boy and reads the game very well. He has a calming influence, a commanding influence. Because he is so tall, sometimes if he looks less impressive in one situation, people make a definite negative judgement."

The criticism didn't stop there. Just last year, German legend Lothar Matthaus claimed that Mertesacker lacks "international calibre". The defender's 94 caps would beg to differ.

Wenger's diagnosis has some merit. Mertesacker's height leads to some prejudicial judgement. He doesn't look like a natural footballer. His lanky build means he stands out, and can occasionally make him appear cumbersome next to players with a lower centre of gravity.

He is not fleet of foot. In a straight race, Mertesacker would almost certainly be the slowest member of the Arsenal squad.

His mind, however, is far from slow. Mertesacker reads the play with all the literacy of a genuine student of the game. It is often said of great strikers that the first half-yard is in their head. Mertesacker is just the same: anticipation assuages the need for acceleration.

Wednesday's victory in Dortmund felt like the apogee of Mertesacker's Arsenal career. Back in his native Germany, he produced a superlative display to keep last season's Champions League finalists at bay.

It was only the second time Dortmund had failed to score at home in 61 games. Thanks to the clean sheet and a customary goal from Aaron Ramsey, Arsenal became the first away team to win at the Westfalenstadion in Champions League history.

Mertesacker was outstanding throughout, silencing one of Europe's most prolific strikers in Robert Lewandowski. According to Arsenal.com's Stats Centre, Mertesacker made eight clearances during the match and completed all of his tackles.

One instance in particular told you everything you need to know about his game. Marco Reus broke away from Mikel Arteta, and was bearing down on the Arsenal goal. Instead of diving in, Mertesacker simply stood his ground and took the ball cleanly from Reus' feet.

The block tackle was immaculate, and demonstrated just how Mertesacker managed to survive his first 31 professional games without incurring a single booking.

There are no frills nor fuss to Mertesacker's game. His style is stereotypically German: efficient and effective.

This season, he has been a key factor in Arsenal's surge to the summit of the Premier League. However, he is not keeping teams out alone. Mertesacker's partnership with Laurent Koscielny has been the bedrock of their recent success.

The pair were united on a permanent basis in March of this year, when Thomas Vermaelen was dropped to the substitutes bench after a disorderly display in the North London derby. Mertesacker and Koscielny managed to shut out eventual European champions Bayern Munich, and have not looked back since.

The two players are wildly different. While Mertesacker is the more tactically astute, Koscielny offers a sprinter's pace to complement his colleague's strategic acumen.

The coaching of Arsenal assistant manager Steve Bould may have played a part in fine-tuning Mertesacker and Koscielny in to such a solid pairing. It's intriguing that since Bould started in the summer of 2012, Mertesacker has been a permanent fixture in the side. Perhaps Bould sees something of himself in the tall, intelligent defender.

Like Bould, Mertesacker in a natural organiser. He is a leader. Watching Mertesacker play, it almost feels as if Arsenal have a coach on the pitch, pulling teammates in to position and encouraging those around him.

After two fantastic wins this week, Arsenal can stand tall as a serious contender for major prizes. Per Mertesacker has come through the criticism to stand tallest of all.